by Carol Leish, MA
Roylin Downs, the owner of Trystology, said, "I love that the street is closed. Business has been doing well. I'd love to keep it that way. Customers come from all over, as they walk up and down Main Street. This helps our business. I love that we have been able to get more foot traffic."
"I also like that they are trying to get some standards for the restaurants, along with outdoor qualifications. I haven't disliked most of the offerings presents. I'm all in for keeping it this way!"
Visit Trystology at: 588 E. Main St. (888) 801-8952. Look at: https://trystology.com/.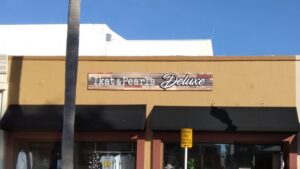 Deborah Yahner, the owner, along with her husband Joe, of Ikat & Pearls said, "I think that the closure of the streets has been wonderful. And, we have received incredible feedback. Time and time again shoppers comment on the fact that it has made Ventura have a European appeal, which they really like. I would prefer that things stay this way, with the street closures."
Visit Ikat & Pearls at: 28 S. California St. (805) 448-9526. Look at: https://ikatandpearlsboutique.squarespace.com/.