by Richard Lieberman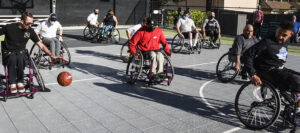 Angel City Sports, an organization that provides free, adaptive sports clinics and equipment for kids and adults with physical disabilities or visual impairment, hosted an event at the Ventura YMCA. The multi-sports day included wheelchair basketball, powerlifting, and blind soccer. "We are thrilled to host our first event in Ventura," said Clayton Frech, CEO, and founder of Angel City Sports. "People are demanding more adaptive sports across the nation; it's an honor and privilege to bring our platform to new communities," added Frech.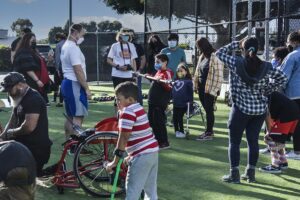 Angel City Sports sponsors and provides free year-round adaptive sport clinics, equipment, and opportunities for adults and, kids with physical disabilities or visual impairments. The annual Angel City Games, the organizations "flagship event" sponsored by the Hartford Insurance Agency began in 2015 and is the largest multi-sport Paralympic competition in the United States. Some disabilities included in the competitions are individuals with limb differences and amputations, spinal cord injuries, quadriplegia, spina bifida, cerebral palsy, multiple sclerosis, blindness or visual impairment, traumatic brain injury, stroke, muscular dystrophy, and dwarfism. The groups' goal is to create a community and sense of belonging for people with physical disabilities supporting them to reach their full potential.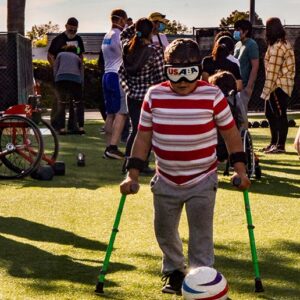 Camille Mahlknecht, Associate Director of Angel City Sports "We are here to unite the community and give everyone a chance to try an adaptive sport", Mahlknecht said. The group wants to increase its sport activities in Ventura partially because there is a demand for it and giving Ventura's disabled community a chance to participate in sports activities not normally available to them. "There is a demand here and there isn't as many opportunities here as there are in the Los Angeles area" she said. "So, whatever we can do to bring programming to areas that have a need for it we want to make it happen," Mahlknecht added. Mahlknecht was a professional volleyball player and played with Katy Holloway two-time Paralympian medalist who introduced Camille to sitting volleyball.
Local resident Susana and her son Carmelo both voiced their support of the games and the opportunities to meet others with disabilities. "We really have a lot of fun as well," she said.
You can learn more about the program at angelcitysports.org.