by Richard Lieberman
To raise community awareness of human trafficking and sexual slavery Soroptimist International held a public meeting at the Museum of Ventura County Saturday March 5. One goal of the group is to raise community awareness that human trafficking is not just a global problem, but a local one.
Featured speakers included Dr. Lowell Smith, National Extreme Terrorism Consulting and Gang Enforcement and Opal Singleton Hendershot CEO & Founder of "Million Kids."
Smith is the former Department Chair for La Sierra University's Criminal Justice Department. He is a retired Deputy Probation Officer and a widely known expert on white supremacist gangs, white nationalism, sovereign citizens, and anti-government movements.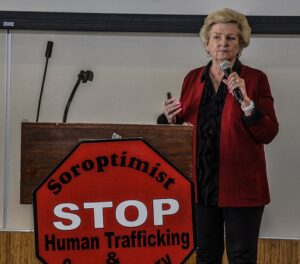 Another featured speaker Opal Singleton Hendershot, CEO and Founder of "Million Kids" dedicated to keeping kids safe from predators. A leading voice for combating human trafficking, social media exploitation and the impact of advanced technologies on child sex crimes.
Sherriff "Bill" Ayub also gave a brief talk to the crowd emphasizing the importance of realizing that sex trafficking occurs on the local level, and for all of us to be aware of the signs that indicate human trafficking is occurring right here in Ventura County.
The presentations covered subjects related to keeping kids safe from predators, to identify and combat human trafficking, and how to identify signs of technology and video game addiction. White supremacy and extremism were also discussed. "One of the most crucial factors is how accessible a young person is to a pedophile is the amount of time they spend on the internet and their willing ness to take chances when talking to individuals they have never met," said Opal Hendershot.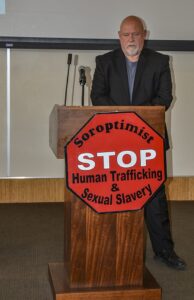 Dr. Lowell Smith in his presentation talked about white supremacy and its ever-increasing activities in California. "There's been a major recruiting effort in the white supremacy, white nationalist movement over the past few years in California'" he said. Smith also added "California with its increasingly diverse population and left-of center politics, has become a breeding ground for hate groups."
An awareness march was scheduled to begin at the museum and walk downtown streets to arose awareness was canceled due to weather conditions.