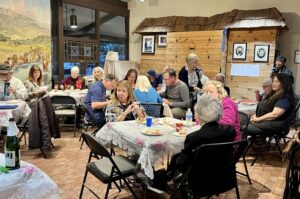 On Wednesday, March 2, the Olivas Adobe Historical Interpreters (O.A.H.I) assembled for the first time in 2022. The gathering in the Olivas Adobe exhibit hall was a time for some much-needed fellowship with old friends and some important COVID delayed business. The installation of the 2022 Board of Directors executive committee officiated by Deputy Mayor Joe Schroeder was number one on the agenda for this volunteer group. Sworn into service were Mary Thompson – President, Bob Sandler – Vice President, Lisa McGuirk-Secretary and Joanne Abing-Treasurer. Officers serve a one-year term.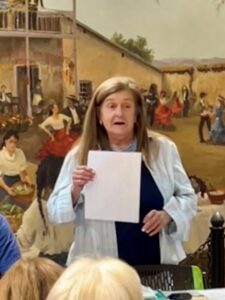 Mary Thompson stated "I would like to thank Joe Schroeder, our city councilman, for doing us the honor of swearing us in. It's always a pleasure to have Publisher Sheldon Brown with us also."
"I came to the Olivas for the first time with my 4th grade class from Arnaz Elementary School in Oak View. My sister was married at the Adobe in 1977. I have been a docent for many years and am honored to be your president. I am looking forward to serving as president and keeping the history of the Olivas Adobe alive."
A full spring season was planned to begin with, March 13 from 11am -3 pm, when the Olivas grounds and building are open for tours, an al fresco gift shop and a new exhibit in the small adobe by artists Laura Jean Jespersen and Lisa Mahony featuring paintings of local flora and landscapes. Two additional spring events are planned for the second Sundays in April and May.
Interesting in gardening, event planning or local history? a volunteer open house is planned for 1 pm on March 13 in the exhibit hall- 4200 Olivas Park Drive. Come see how this volunteer group is keeping the Rancho Period of California alive. www.cityofventura.ca.gov/OlivasAdobe.
The wonderful Music Under the Stars music concerts will be returning to the Adobe once again. Watch for more information in a future issue of the Ventura Breeze.
The City of Ventura Parks & Recreation Department who manages and maintains the Olivas Adobe Historical Park is happy to see the OAHI volunteers meeting in person again. "Even though it's only been a couple of months since they presented the Holiday Candlelight tours- this is a living site that takes you back to an era with costumed volunteers sharing history about the gardens, the two story Rancho home and the family who lived in it, artists talking about their work and inspiration garnered from painting on site-this place is intended for visitors to experience in person." says Ventura Cultural Supervisor, Kathryn Dippong Lawson
The Olivas Adobe historic site features the restored two-story adobe home of Don Raymundo Olivas. Built in 1847, this Monterey-style adobe home, Historical Landmark No. 115 from the Rancho-era, celebrates Ventura's Rancho and Latino heritage through docent-led weekend tours, educational outreach programs for school groups, and community events.
The docents and board members perform a most valuable service of not only protecting the historic Olivas Adobe, but also keeping relevant by planning and staffing its many activities year-round. The docents are chiefly responsible for keeping alive the rancho's many seasons of history and celebrate the skills, traditions and heritage that belong to Ventura's many peoples.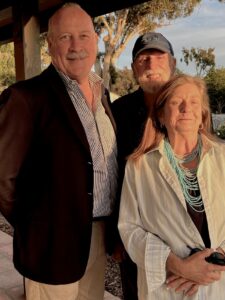 The Board of the Olivas Adobe Historic Interpreters oversee the docent operations and ensures that they run smoothly and successfully. Thanks to the OAHI docents, the Olivas Adobe continues its long tradition of hospitality by hosting a full calendar of diverse cultural events for all ages. And very exciting the wonderful Adobe Music Under The Stars will return this year. Watch for more information in a future issue of the Breeze.
Joe Schroeder stated "It is now my pleasure to swear in the new board's elected officers. Please raise your right hand and repeat after me. I promise to conduct myself with dignity and decorum when representing the Olivas Adobe Historical Interpreters and the City of Ventura. "
"I swear to uphold the By-Laws of the Olivas Adobe Historical Interpreters and to do my job as an elected officer to the best of my ability. "
"It is my pleasure to present to you the Olivas Adobe Historical Interpreters elected and installed officers for 2022. Thank you, everyone for attending tonight's Olivas Adobe swearing in ceremony and congratulations to the new board members."