A grand reopening ceremony was held.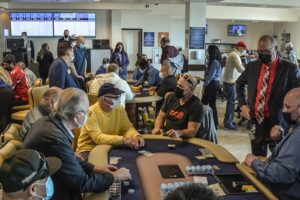 by Richard Lieberman
Players Casino Ventura is back in business in a new location at the Ventura County Fairgrounds. The casino, much like other businesses has suffered from the effects of Covid-19 and shut down permanently last December filing for bankruptcy four months later. Ventura City was faced with the loss of a major tax revenue source. At a recent City Council meeting, the council approved the re-opening of the casino at a new location that will help fill in the cash shortfall from the closure.
Players has been temporarily approved to open at the Derby Club located at the Ventura County Fairgrounds.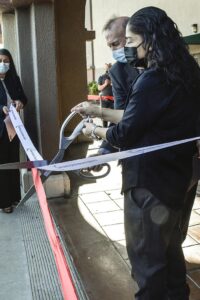 On Wednesday, February 2, 2022, a grand reopening ceremony was held. The decision to open at the Derby Club gives the casino an opportunity to recoup some of its losses and keep the tax revenue stream flowing again.
Attendees at the event included Joe Schroeder Deputy Mayor and Stephanie Caldwell, President of the Ventura Chamber of Commerce. A ribbon cutting ceremony led by Patrick Berry was conducted as a crowd of eager gamblers gathered at the front of the casino serenaded by a Mariachi Band on hand to add to the festivities. The crowd was addressed by local and county officials all praising Players second chance at life.
Tax revenue for the city, on average amounted to two million dollars a year leaving a gaping hole in city coffers after the casino closed. The city expected the revenue to continue through the 2021-2022 fiscal year but has drastically reduced the expectations to a fraction of what it was.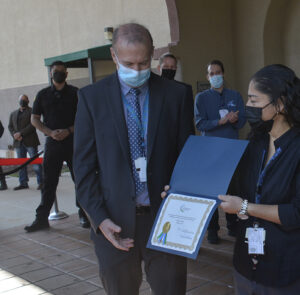 The city in approving the reopening and relocation has hopes to make up for at least some of the tax revenue even though the city, because the new location is owned and managed by the state will receive no tax revenue.
The city had depended on a 15% tax stream but will receive a steady flow of income through a program known as PILOT (payment in lieu of taxes) program. Players has agreed to pay the city a lesser amount, with the agreement running through 2025. The casino has offered, and the city has accepted a reduced amount. The casino will give up 10% of it is operations and the casino will be able to defer 5% of its income until 2027 to make up for relocation costs.
Patrick Berry General Manager said, "I think from our viewpoint right now that the percentage, the 10% and the deferral are what is going to allow us to keep in business." Berry added "We don't know what is going to happen, and we hope nothing happens and things just go up from here."
With the agreement on revenue amounts to the city, Ventura will receive approximately 1.3 million a year according to City Council estimates.