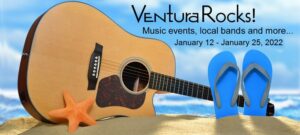 by Pam Baumgardner
VenturaRocks.com
The winner of the first BlackCouch Studios Music Showdown was announced this week! The friendly competition between 16 musicians here in Ventura was the brainchild of Jerry McWorter (Hi-Hat Entertainment) and Guy Martin (BlackCouch Studios). They placed sixteen names in three different hats (8 guitarists, four bass players, four drummers) then arbitrarily put together four bands by pulling names out of the hat. The members showed up without knowing who their bandmates were, nor the song they were to record. They were given three hours to record their rendition of Midnight Rambler. The winner of the first round (group 1 & group 2) and the winner of the second round (group 3 & group 4) went head to head on YouTube with viewers voting for their favorite rendition without knowing who the players were. I want to thank both Guy and Jerry for being on my radio show and for letting me play the winner on the Pam Baumgardner Music Hour this week. The winning group was #2 with winning musicians Ray Jaurique, Joe Baugh, Hank Van Sickel and Chris Jenson. Speaking from the heart, I loved every single rendition and as we discussed on my radio show, this project was great for the heart and soul of Ventura's music scene. I'm looking forward to the next installment of the BlackCouch Studios Music Showdown!
The Tavern at 211 E. Santa Clara Street in Ventura has switched gears and as the first of the year are now called A Bar Called Country where they'll be offering line dancing every Sunday at 5. The live music I've found so far includes Hard Rooster, Brother Earl and the Cousins and Dan Hitchcock on Thursday, January 13, and Medicine Hat with the full band on Fri January 14.
According to their official website, Adrian Smith and Richie Kotzen's project, Smith/Kotzen's very first live date in the US is schedule for the Ventura Theater on January 15. Smith is best known as one of the main guitarists for Iron Maiden and Kotzen from the Winery Dogs, as well as having worked with both Mr. Big and Poison. Also playing the theater this month the Stuts on January 23 and Subtronics on January 27.
Quick Notes: The Bank of America Performing Arts Center in TO has REO Speedwagon on January 12, and David Foster on January 19; Kruelty, a band marketed as Tokyo disgusting music, plays with Apparition, Slowbleed and Upon Stone at the Oxnard Performing Arts Center on Friday, January 14; The Sewer has a special Sunday Psycho Sunday event on January 16 with Frenetic Trio from Brazil, joining the bill, The Cursed Bastards; and Kelly's Lot's performance at Namba has been rescheduled to March 26, but still on the books are Franck Goldwasser aka Paris Slim on January 15 and Dreamland, music of Joni Mitchell featuring Kimberly Ford on January 22.
Do you have any music-related news or upcoming shows you want help publicizing? Please send all information short or long to [email protected], and for updated music listings daily, go to www.VenturaRocks.com.