100 and still going strong.
On Saturday, January 8, a 100th birthday celebration was held for Mr. Edward "Dick" Meares an Independent Living resident at Cypress Place Senior Living. Dick is a U.S. Army veteran who received a Bronze Star and Legion of Merit in addition to so many other medals that when you see him in his uniform it is quite spectacular. At his party he was presented a quilt specially made for him by the Quilts of Honor program.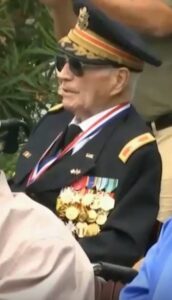 Dick works out every day in the gym at Cypress.
Edward Dickinson Meares was born on January 8, 1922, in Greenville, S. Carolina.
He lived Greenville until his mid-teens when his family moved to Washington, DC.
Dick earned a Bachelors Degree in Electrical Engineering from Michigan State University and a Masters in Adult education from Georgetown University.
He was a career army officer serving for 30 years. He retired with the rank of full bird colonel.
When he has free time, he plays chess and likes reading. In his earlier years he enjoyed horseback riding with his siters.
One of his grandson's Alan is carrying on the military tradition. He is an air force pilot and flies the U-2 Dragon Lady ultra high altitude spy plane.  He has flown it over Afghanistan and around North Korean air space.
He has 6 great grandchildren. Being a military family some of his kids lived in
Germany, Michigan, Massachusetts, Japan, Arizona, Virginia, and California.