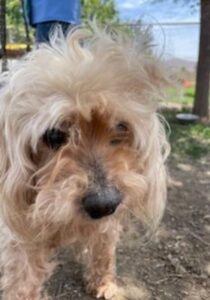 Hi: I'm Blossom, a 9 1/2 year old Poodle X who is in need of a new home. I was found as a stray, but no one came to claim me. I'm grateful to C.A.R.L. who is going to help me find my forever home.
I'm an older lady whose vision isn't as good as it used to be, but I still get around just fine. My foster mom says I'm good with other dogs and cats too. I'm a wonderful dog when I'm with you, but I don't like to be left alone and will let you know it.
I know people will pass me by because I'm older, but I know my special someone is out there. I still have lots of love to give and hope there is someone who wants to love me in return. Please fill out an online application if you want to meet me. CARL Adoption Center-call 644-7387 for more information.

---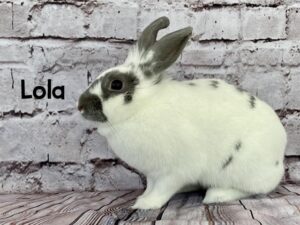 Spayed Female Shorthaired Rabbit. Lola has personality to spare! This super social house rabbit loves to hop on the couch with her foster family and enjoys other, non-predatory pets. She is a very tidy girl who is good with her litter box. To learn more about Lola and inquire about adoption, please email [email protected] and ask for ID #A776348.
Adoption Process: www.vcas.us/adoptionprocess