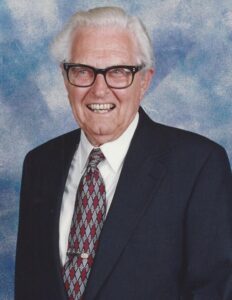 by Karen Leslie, writer with heart
A humanitarian to the bone, Richard Keller left his inventor's footprint onto the world and legacy into the hearts that crossed his path. The quiet strength of his creative thinking-mind and a gentle-man to the core, led to a full life, rich in friends, adventures and accomplishments. In Richard's 104 years of life, he not only lived side by side with world change marked by time, he changed, adapted and thrived with them. Richard Keller was an organized soul, a stickler for accurate details, approached life with a firm positive attitude, always available to assist in times of need and not one to toot his own horn. Exploring the forest of one's dreams was a joy and while engaging in a one-on-one conversation, the other person was the important one, always.
Richard Keller's "Ladder of Life" story began February 18, 1917 in Wellington, Kansas, born to parents Nellie and William Keller, shortly thereafter they moved to Medford, Oklahoma, living on a farm in a house with no electricity or bathroom which eventually had all modern utilities. He was educated in a one room schoolhouse, learned to drive a Model-T at the age of nine and attended Northern Oklahoma College. Cars were one of Richard's loves along with women mentors. He respected, his mother, teacher, and aunt who gave Richard the incentive to follow his dreams.
Richard took to the road in 1938 and migrated on a Harley Davidson from Oklahoma on route 66 to San Jacinto, California. In 1943 Richard entered the Air Force and in 1944 became a USAAF-1st LT, piloted a B-25 and trained for the proposed invasion of Japan. Richard kept flying private planes after the military.
With five universities including USC as a student in engineering, architecture and industrial design, the next rung of accomplishments on the ladder of Richard's life was when design engineers didn't have computers, only slide rules. In 1946 Richard worked the next six years at Lockheed Aircraft – twenty-one years at William R. Whitaker Corp, Hollywood, California, where he designed actuators for aircraft valves, one of which was placed on an Apollo – ten years at California Abex Corp and collecting 20th Century memorabilia along the way, now housed in his private museum. Richard retired in 1982
Richard's first wife of 38 years, Lupe Peinado passed away in 1992, leaving her two daughters, Bette Jean and Barbara Lou and their children and grandchildren. In 1993 after a reunion of former Whitaker employees, he became reacquainted with Elaine Finch. Sharing common memories and interests, they married in 1995, and they have been exploring life together ever since. Elaine has always described Richard as her 'Miracle Man'.
The sands of time sifted through the hourglass of Richard's life, leaving a trail of inspiration, love of invention and creativity in his wake. He once said, "On this ladder of life called my life, I believe I have climbed a number of feet up this ladder. I never dreamed of being a CEO or a U.S. President. I did desire to have a history of some successful accomplishments and beautiful memories of my contact with human beings. Life is beautiful even though we have only partial control. I was lucky to find love twice, privileged and fortunate for my years of employment that was enjoyable, motivating and most important, creative."
Whenever someone asked Richard how he's feeling, he would always reply, "I'm on my final approach". Richard Keller's final approach did come peacefully in his sleep on July 23, 2021.