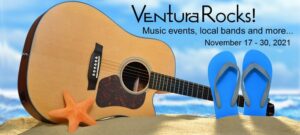 by Pam Baumgardner
VenturaRocks.com
If you're planning to dance off some of those post-Thanksgiving dinner calories on Thursday night, be sure to plan ahead as most venues will be closed. Best to be proactive and get out Wednesday night, dance, party, and stay out way too late so you'll be good and hung over for the family dinner and you won't want to overeat anyways.
There will be a memorial tribute show for Big Bob of Agression which will certainly pull in all the local punk rockers throughout the years. Headlining this event will be Ill Repute with Stalag 13, Dr. Know, False Confession and Out of Trust. This is an all-ages show starting at 6 pm with a $20 cover.
Namba has a number of shows lined up this month with the Healers featuring Henry Carvajal on Friday, November 19, Phil Salazar and the Kinfolk on Saturday, November 20, and it looks like they'll have a recuring feature called The Listening Room Redux a couple times a month which will be an evening of acoustic open mic which will wrap up with a set by a featured local songwriter or two (per Namba's website). Look for the Listening Room Redux to kick off on Thursday, November 18. Proof of vaccination or a negative COVID-19 PCR test taken with in 72 hours of the show you're attending is required for entry at Namba.
Luis Munoz and the New Jazz Trio plays the Ventura Harbor Comedy Club on Saturday, November 20. Muñoz has written music for documentaries, animation films, dance and theater, and has performed in some of the best Jazz festivals and venues in the world. Tickets are $15.00.
Quick Notes: The Mitchell Forman 5tet plays The Grape jazz club on Wednesday, November 24, featuring Simon Phillips who has played with Toto and Jeff Beck; Surf Rodeo dates for next summer were recently announced for July 15, 16 & 17, 2022, and tickets are now on sale; El Rey Ventura will be closing their doors for good November 21 after 15 years in business. Tommy Marsh posted on FB that the Ojai Blues Fest will return to Ojai Art Center next June, it had been postponed due to the Pandemic; original music can be heard when Bad Leaf and Owl Acid play The Garage on Saturday, November 20; and holy moly I'm already seeing advertisements for New Year's Eve parties, where does the time go?
Finally, I've been trying to gather my thoughts about the recent tragedy at Astroworld where nine people have now died as a result of a crowd surge at a concert. This isn't the first time it's happened, and whenever I hear of another incident, I am reminded of the three times I've feared for my life during a crowd surge, two were caused on purpose and the other was an unfortunate byproduct of police breaking up a hall party when I was a teenager down in Orange County. Two out of three times I was pushed to the ground, one of those times I literally grabbed a stranger's ankle as people started to run across my body, I passed out and woke with a random stranger, my hero, shaking me to consciousness, he may have saved my life.
As a parent of a young woman who also loves attending concerts and festivals, she knows to be on the sidelines with her eye on exit strategies. I would love to say that certain people will stop behaving poorly, but until that time, wherever you may find yourself, whether it be at a festival, a packed venue, a movie theater, or just about anywhere where mobility is limited, just be aware of your surroundings. Don't live in fear, but knowing your exit strategy is safe sound advice.
Do you have any music-related news or upcoming shows you want help publicizing? Please send all information short or long to [email protected], and for updated music listings daily, go to www.VenturaRocks.com.