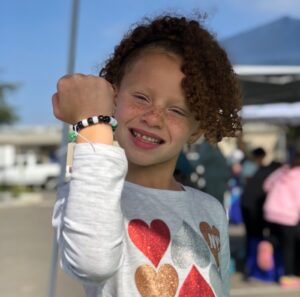 Girl Scouts of California's Central Coast (GSCCC) welcomed girls ages 5 – 18 to their second free EPIC Community event sponsored by SoCal Gas. On November 6, 2021, from 11 AM until 2PM, fun-filled games and activities were held at an EPIC Community Center.
Girls in kindergarten through high school engaged in exciting STEM learning activities, made crafts to take home, met new friends in their neighborhood, and won special Girl Scout swag. While girls played, learned, and made new friends, families enjoyed free tacos and ice cream at the La Poblanita and Mister Softee food trucks. Parents interested in learning more about the Girl Scout program also had the opportunity to speak to council staff and volunteers about how to get involved.
With family support, EPIC exists to build character in vulnerable youth and create everyday leaders throughout marginalized communities, using experimental learning and arts as the mediums to produce responsible citizens. EPIC offers a mentorship program as well as workshops for parents and kids to develop and unleash a child's inner leader. Girl Scouts of California's Central Coast partnered with EPIC to support this effort and provide girls based in Ventura with fun activities that inspire the leader in them.
"SoCalGas is pleased to sponsor today's event; we believe in investing in the communities where our employees live and work. As an advocate for advancing diversity and inclusion; which includes developing tomorrow's women leaders, providing opportunities for all girls to reach their full potential is vital," says GSCCC Board Member and SoCalGas Public Affairs Manager, Maria Ventura who was instrumental in bringing the two entities together to support the event.
Learn more about this event and Girl Scouts at www.girlscoutsccc.org or contact [email protected] for more information.