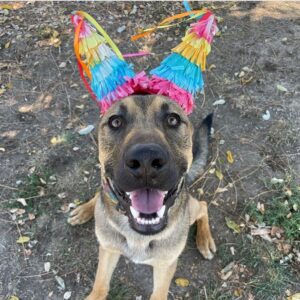 Hi: I'm Corky, a very active 10 month old German Shepherd X who was found as a stray. No one came to claim me, so I'm eagerly waiting for my forever family to come and take me home.
I'm a big boy who loves attention and playing. I tend to jump when I get excited and I'm a bit mouthy when playing.
I'll need an active person or family who will exercise me daily. I love to run around so I might make a good running buddy. I know basic commands and I'm willing to learn more. I'm house trained and know how to use a doggie door.
Canine Adoption and Rescue League C.A.R.L. CARL Adoption Center-call 644-7387 for more information.
If you're interested in meeting me, please fill out an online application.
---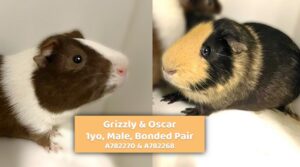 Grizzly & Oscar were owned by a loving family who were no longer able to care for them and brought them to Ventura County Animal Services to be rehomed. They are a young, bonded pair who must be adopted together. Guinea pigs are social animals and typically prefer a companion, so having a bonded pair is advantageous! Grizzly and Oscar are adorable and fun-loving and enjoy playing and cuddling up together. Please learn about proper guinea pig care prior to adoption.
ID: A782270 & A782268. Kennel: 40. Camarillo Animal Shelter 600 Aviation Drive, Camarillo.