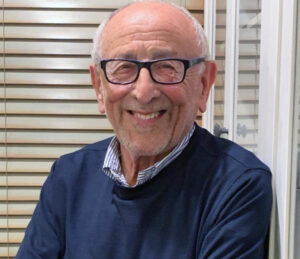 One critic amusingly described Ivor Davis as "a combination of Zelig and Forrest Gump." Find out what that means at the Ojai Film Festival on Sunday, November 7 at 7 pm. A special screening of the film "I Was There – A Reporter's Story," chronicling Davis' life, takes place in the Ojai Art Center courtyard.
Ivor Davis reported on various turbulent, historic, and iconic stories of the last century. During his tenure as a foreign correspondent for the London Daily Express and the Times of London he wrote a weekly column for the New York Times Syndicate. He made Rock and Roll history when he traveled with The Beatles when they invaded America in l964. He became the only newspaper reporter to witness the historic meeting of Elvis and The Beatles. Author/journalist Davis dodged sniper bullets while covering the Watts Riots. He sneaked on the University of Mississippi campus as bloody riots unfolded after James Meredith became the first black student to enroll. On the night Sirhan Sirhan assassinated Robert Kennedy Davis stood in the kitchen of the Ambassador Hotel. He took a front-row seat at some of the most famous trials of the 20th century. He was one of the "Boys on the Bus" when B-movie actor Ronald Reagan won the White House.
Acclaimed Ventura County director and filmmaker John Zilles produced "I Was There – A Reporter's Story," a short, intimate documentary about Davis's charmed life. Following the screening the audience is invited to join an up-close personal conversation with director Zilles and Davis. They will discuss how this short film came about along with some of Davis' extraordinary adventures as an eyewitness to history.
When asked why he made the short documentary, Zilles said, "As I move through life, I always seek people who have an interesting story to tell…Ivor is one of those people."
John Zilles grew up in Green Bay, Wisconsin. After 22 years of snowy winters, he graduated from Marquette University and headed west with a head full of dreams. After stumbling into the film industry by accident, Zilles worked as a cinematographer for over 20 years. Recently he started making his own films. "I Was There" is his third effort. He operates out of his headquarters in Ventura County.
Ivor Davis, a British transplant, has lived and worked in Southern California since the 1960s. In addition to his journalism career, he authored four books, including the first book ever written on the Manson Murders, "Five to Die," and "Manson Exposed-A Reporter's 50 Year Journey into Madness and Murder," released on the fiftieth anniversary of the Tate-LaBianca Murders. He released his award-winning "The Beatles and Me on Tour" on the fiftieth anniversary of The Beatles 1964 summer tour. Davis also wrote a children's book inspired by The Beatles, "Ladies and Gentlemen, The Penguins."
Tickets for the special presentation November 7 at 7 pm in the Ojai Art Center courtyard are $15.