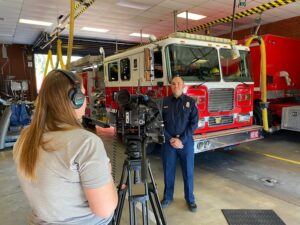 CAPS Media crews are staying very active producing multiple projects throughout the community. For the City, CAPS Media is completing a series informational videos for the Ventura Fire Department covering timely Fire Safety messages including what to do during a power shut off and preparing Ready, Set Go kits for use during a fire emergency. The series of informational public service announcements will be hosted by Ventura City Firefighters and featured on the Fire Department website, and distributed on multiple social media outlets and will air on CAPS Media television Channel 6 and CAPS radio KPPQ 104.1FM.
At the same time CAPS Media continues producing monthly updates hosted by Ventura City Mayor Sofia Rubalcava. Featuring highlights of City initiatives and projects the videos are featured on the City website and on social media sites and on CAPS Media outlets.
The innovative DJs and program hosts at CAPS Media radio KPPQ 104.1 FM continue to expand their worldwide audience. KPPQ is launching a new foodie show featuring local restaurants, chefs and reviews. On a more serious track, Nadine Piche interviewed counselor from the Kids and Family Together organization that provides support, education and counseling resources for children and families in need in Ventura. In The Women's Room's Kathleen Good hosted Dawn Dyer of Vision 2020, a national Women's Equity organization with a very active chapter in Ventura County. The ever-expanding music slate includes rock n roll, bluegrass, alternative music, and other genres.
Plus KPPQ is developing a rapidly growing podcast platform. To get involved as an intern or to have your voice, interests or passions shared on KPPQ, contact Elizabeth Rodeno, KPPQ Project Manager and Station Director at [email protected]
Recently CAPS Media video crews recorded two public events focusing on housing issues facing Ventura County.
On October 13, CAPS Media covered the 20th annual Ventura County Housing Conference  held at the Oxnard Performing Arts Center. The event themed "Housing Reimagined," was coordinated by HOME – Housing Opportunities Made Easier – a housing committee of the Ventura County Economic Development Association. CAPS recorded keynote speaker Carmen Ramirez, Ventura County Supervisor, and panel discussions and presentations throughout the event. The complete video as well as a highlight reel can be viewed on the HOME website.
CAPS Media also documented the Ventura Social Services Task Force Partners for Change event on September 30th. The evening, themed Everyone Needs Housing, was held at the Mission San Buenaventura's O'Brien Hall and featured presentations by various faith-based and non-profit organizations.
Both housing and homeless related events and will be broadcast in the coming weeks on CAPS Media Channel 6 and on CAPS KPPQ 104.1 FM.
Due to the COVID-19 emergency the CAPS Media Center is closed to Member/Producers and the public until further notice. CAPS Member/Producers can submit programming via the online portal at capsmedia.org for broadcast and streaming on CAPS public access television Channel 6 and on CAPS Radio KPPQ 104.1FM.
All of us at CAPS Media encourage everyone to get vaccinated. The sooner we are all vaccinated the sooner we can fully enjoy our very special community. We hope you all Stay Safe and Stay Strong during these challenging times.