Suz informed and entertained millions with Schmooze With Suz on CAPSTV.
Suz Montgomery, an icon fixture in the Ventura community died Oct. 12, of complications from cancer
John Hankins stated: "My wife and best friend passed peacefully at 6:30 a.m. as the sun rose. Within the hour, a hummingbird hovered in her garden, a sign that her soul was at peace, which she predicted. For all her friends and family, we will be setting up a virtual legacy site in which you can post a picture of you with her and perhaps tell a favorite short story you had together."
"After years of fighting cancer and fighting for justice, equality for all, dignity for seniors, and so much more, she is now free of pain. Her message to all would "be the best you can be and the best will come back to you."
She was 73. In addition to her husband, Montgomery is survived by her two children, Lisa and Stephen, and several grandchildren and great-grandchildren.
Suz moved to Ventura in 1985 and immediately started to have her influence on Ventura. She was perhaps best known for her work with the senior community at government meetings and taught as an adult educator with the Ventura Unified School District.
Suz served as the chairperson for the Ventura County Area Agency on Aging's Advisory Council and the Ventura Council for Seniors and was a member of Select Committee on Aging for state Sen. Hannah-Beth Jackson. In 2017, Montgomery was recognized by Jackson as one of her Women of the Year for her work with senior citizens.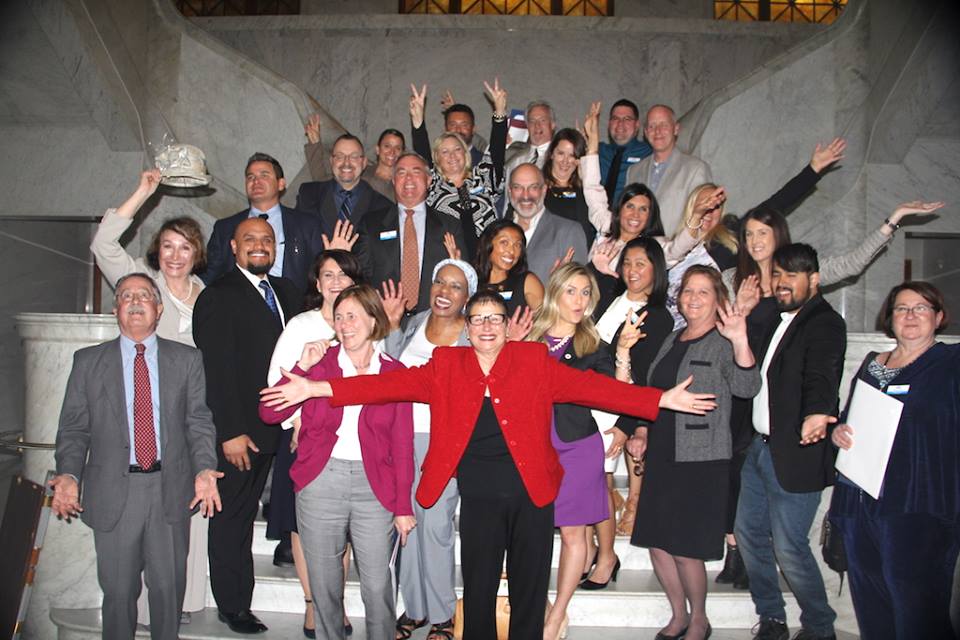 Memorials from just a very few of her friends and admirers who loved and respected her.
From the VCAAA. "It's difficult to express Suz's contributions to the VCAAA, and to the community as a whole, in a single post. She was dedicated to empowering the populations we serve and providing programs and services designed to help others live the best possible life. She never met a challenge she wasn't willing to take on. She tackled every topic of interest with all she had and was well known and respected for her unwillingness to back down until the job was done."
"There are certain people one meets along the way that are truly unforgettable.  For everyone at CAPS Media, Suz Montgomery was one of these very remarkable individuals.  Suz was not only instrumental in the formation of CAPS she was the embodiment of our mission: to create an engaged and informed community.
Passionate about the city she loved, Suz was an unrelenting force to be reckoned with, never shy about letting everyone know where she stood on the issues of the day in Ventura – including, and especially, city leaders.
Suz was an inspirational mentor to every member of her CAPS' crew.  All of us celebrate her inextinguishable fire and unrelenting spirit.  Suz will be greatly missed but never forgotten by everyone at CAPS: the Community Access Partners of Suz.  With a smile, a tear and a heavy heart, we thank Suz Montgomery for enriching each of our lives.
Patrick Davidson, Donald McConnell, Evan Carpenter, Elizabeth Rodeno, Gary Roll, Jamie Cawelti, Manny Reynoso, Phil Taggart, Alex Uvari and Jorge Godinez. "
Carol Michelle Leish "The legacy of dear Suz Montgomery will continue to live on!
You will be missed. Your memory and contributions to Ventura will continue to be a blessing to me and others."
Mary Milner Haffner "Suz Montgomery cared about people and she always worked to make things better for everyone. She never held back-I always admired that about her. We will miss her dearly and are better for having known her."
City Council Member Jim Friedman "I have known Suz for close to 25 years.  We first met when I was a council member back in 1996.  We actually hung out a fair amount together when I served as Mayor.  When I think of Suz, the word "firecracker" is the first thing to comes to mind.  Extremely energetic, engaged, involved, passionate about her community and most of all, passionate about "her seniors" as she liked to call them.  Whether she was "holding court" on the sidewalk outside of Palermo on Main Street, schmoozing with Suz on Ventura's cable access channel CAPS or just chatting with neighbors and friends, Suz just loved to talk and be with people.  Her positive, "can do" attitude enable her to contribute so much to our community.   She was truly "one of a kind" and will be dearly missed."
Former city council member Cheryl Heitmann "Suz was a rock star in community activism. Once she identified a problem or an unmet need, she developed a solution and was unrelenting in going forward, getting many to advocate with her.  Suz was passionate about good government, often saying it's allabout the process, and services for Seniors and the mentally ill. She loved people and was happy to share her love of cooking and gardening with many.  She loved her family, her friends and her community.  She was a mentor to many, a counselor to some and a trusted friend who would listen and not be afraid to give her opinion.  She touched many lives and made our city and county a better place.  There will never be another Suz but she has given us all a model to strive for.  To say she will be missed is truly an understatement."
Ivor Davis "Suze was a force of nature–with a gigantic heart and a love of life.
I first met her when visiting some friends in a retirement community more than two decades ago–and there she was, this bubbling personality, providing spiritual sustenance to the residents and doing it with such energy and passion–which  was her fabulous calling card. An indomitable lady She."
Marlyss Auster President & CEO Visit Ventura "When we asked Suz Montgomery to present the Men's Most Courageous jersey during the Stage 5 awards ceremony at the 2019 Amgen Tour of California here in Ventura her answer was 100 percent Suz Montgomery. "I'm pleased and honored to be asked to represent all of us who inspire and survive daily by giving back!" Her battles were never just about her."
"Suz Montgomery had a profound impact on my life. She was deeply committed to our community and to living her life out loud. She celebrated each person she met with such authenticity and encouragement. She was a change maker in our community and truly touched so many lives. She was an inspiration to me and I know that her spirit lives on through the lives she touched. I will strive to be bold and live life out loud in honor of Suz (making sure to do so with fine wine, good food and interesting people like Suz would do!). I'm grateful to have known her and will miss her tremendously. She was a beautiful soul and our community and world is better because of the difference she made. I hope that we all carry her spirit forward in making a positive change in Ventura and beyond," said community member Ashley Bautista.
Jill Forman "Suz showed us how to live and how to die: with grace, passion, and ultimately acceptance."
Heather Sumagaysay: "I first met Suz during VCLA's cohort 22. We called ourselves deuces wild, and of course, Suz helped champion for our group's theme. Our goal was to be inspiring leaders who would remain committed to making a positive difference throughout Ventura County," said City Public Information Officer Heather Sumagaysay.  "In my current tenure with the City of Ventura, I've seen first-hand the impact Suz has had in the community. She dedicated her life to public service and advocated for many important community causes. She served as the Chair of our Ventura Council for Seniors, one of our City-appointed representatives to the VCAAA Advisory Council, played a key role in the development of the City's Senior Strategic Plan, and received a legacy award from the City Council in 2020."
Linda Parks Supervisor, District 2: "In 2017 the Ventura County Senior Summit awarded Suz with the  Hank Lacayo Senior Advocacy Award for her compassion and hands-on advocacy for older adults. Her energy and commitment made a positive difference to so many, we need to add a Suz Montgomery Advocacy Award to honor her selfless dedication. On a personal note, I loved her encouragement and her smile and extend my heartfelt condolences to her husband, family and friends."
Alicia Doyle "I met Suz more than two decades ago while working as a journalist for the Ventura County Star. I wrote several stories about her efforts to fight for the rights of older adults. Suz fought for policy changes and equality, and understood the crucial role older adults play in our lives, our communities and our world. Even though Suz has passed away, she made a positive difference that will continue to last as her memory is kept alive."
Patricia Channer "I've known Suz since 1985 when she laid down her roots here in Ventura. A true shero, warrior and fearless advocate who spoke her truth and accomplished much in her short time here on earth. Our community is a better place because of her passion and love of all things Ventura. There are few people who have impacted our community like Suz, she will be sorely missed.
May our hearts lift in gratitude for the richness Suz brought to our lives. May we all continue to speak out, stand up and get involved."