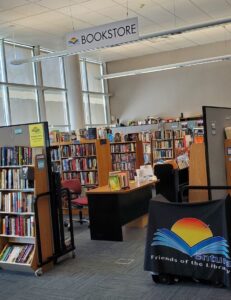 by Jill Forman
Changes, changes …Mask Rules
As the pandemic ebbs and flows, the mask rules change before they are even published!
Masks must now be worn indoors by everyone, regardless of vaccination status.
Hill Road book group met in person outdoors on their patio. Foster book group plans a hybrid in-person/Zoom meeting. Contact your group leader with any questions.
Check with the library staff at your branch to keep informed.
Hill Road Express Hours
Do you have difficulty getting to the library during regular hours? Hill Road has an option for library patrons who need expanded times.
Express Access offers patrons admittance to the library in addition to staffed operating hours.
Applicants must present their library card, photo identification and proof of current address for verification purposes. They will sign a policy form and complete an orientation provided by the librarian.
Express hours are: 8 – 10 a.m. Monday-Wednesday; 8 a.m. – 12 p.m. Friday; 8 – 10 a.m. Saturday and 8 a.m. – 5 p.m. Sunday.
Need To Connect? Your library can help!
Need to connect but don't have the equipment? Here is your answer.
Our Computer Kits consist of a Chromebook, hotspot, and charging cables, all in a carrying case. They check out to adults 18 and older for 4 weeks and may be automatically renewed up to 2 times if not requested by another customer. Kits must be returned to library staff; do not return to a book drop!
Find more information at our VC Connects website: vcconnects.org
Kit includes:
A Chromebook with power cord
A hotspot
A USB charging cable and power adapter
Canvas bag
Mouse
Complimentary headset
A Note from Bookstore Manager Sandy Greenberg
VINTAGE BOOKS
Come visit the new Vintage Books section in the VFOL bookstore in Foster library. It may surprise you! It's not just classic literature, but a look into the thoughts of everyday people in the past. Have you ever wondered what your grandparents thought was the key to a successful marriage in 1907? One book advises to "keep the honeymoon short to lessen the risk of disappointment or boredom ". Another book cautions "nervous women" to consider a good orgasm as a cure for their symptoms rather than a visit to the doctor.
We have recipes from General Electric to use with your "new-fangled refrigerator" including creamed sardines and eggs, and ways to make an ice block more attractive. We have self-help books which can help you develop your charm or the skills to think for yourself.
Our fiction ranges from Agatha Christie mysteries to adventure on the high seas, from romance novels such as 1900s "Girl in 10,000" to hardened detective stories from the '40s.
Jump in the time machine at the Vintage Books section. It's a trip!
Join/volunteer! Give back to your community. Support your libraries.
Venturafriendsofthelibrary.org. Or pick up a brochure at your local branch and mail it in. Get on the mailing list for email or hard copy newsletters.