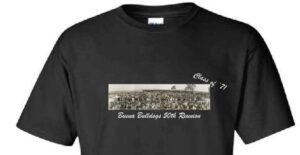 It's been 50 years since the class of '71 roamed the concrete halls of Buena High. How many friends' names can you remember? If you join us on October 15-17, 2021, for our 50th reunion, you can test your memory and maybe win a prize. A ticket will get you a T-shirt, food, reminiscing and lots of fun. A meet and greet, a BBQ, and a Continental Breakfast are part of the festivities.
Friday, October 15th, 6-9pm at Knights of Columbus Hall, 36 Figueroa St, Ventura, 93001. This will be a Meet & Greet with a variety of appetizers and snacks, and a full "No Host" bar, Cash Only.
Saturday, October 16th, 11-5pm at Camp Comfort Park, 11969 N. Creek Rd, Ojai, 93023. A catered BBQ at 1pm; snacks, desserts, music and games. BYOB, bottled water and ice provided.
Sunday, October 17th, 9-11am at Buena for a Continental Breakfast at the Orange Peel…that's right, a walk back in time at our Alma Mater!
COST: $80 per person, includes a T-shirt with a panoramic picture of our class, or $70 without a T-shirt. PayPal accepted, [email protected] (incl. full names & maiden name if applicable) or checks made out to: Lynnea Mitchell-Buena 1971, and sent to: 1375 Tamarix St., Camarillo, CA, 93010. Send T-shirt sizes to Mark Fargo: [email protected]
There will be an Open Mic at each event, so come prepared with memories of your favorite High School moments.
A list of unfound classmates is posted on the Buena Facebook page. If you have contact info for anyone listed, please send it to: [email protected]
Remember that special friend in High School that you haven't seen in 50 years? Come to our reunion and reconnect! We hope to see you there.
Lynnea Barnum Mitchell, Cindy Meek Henley, Ilene Kutzmann Watson, Mark Fargo and Linda Yen.