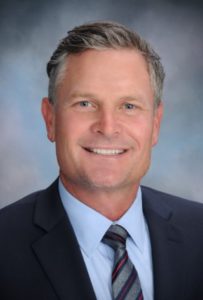 The Ventura Unified School District (VUSD) Board of Education, in their April 27 regularly scheduled Board meeting, voted in favor of Superintendent Rice's appointee, Mr. Brett Taylor, as the new Assistant Superintendent of Human Resources. Mr. Taylor will begin his new role on June 7, 2021. Mr. Taylor will be replacing Dr. Jeff Davis, who is leaving the District to become the new Superintendent of Oak Park Unified School District. 
Mr. Taylor brings a wealth of knowledge and expertise that will serve him well in this position. He has worked in education for more than 20 years, most recently as the Director of Alternative Education at the Ventura County Office of Education (VCOE). In addition to this experience, Mr. Taylor brings years of site leadership experience with him, having served in the roles of Principal, Assistant Principal, Dean, Teacher, and Department Chair, in VCOE and Oxnard Union High School District. Having held many roles within a District, Mr. Taylor is uniquely poised to hold the Assistant Superintendent of Human Resources position. He is well-known countywide for his strong ability to build positive relationships with District personnel and education associations, his extensive experience in collective bargaining, both traditional and interest-based, his knowledge in recruitment and equal opportunity employment procedures, his ability to foster a shared vision for the organization, and his extensive experience in conflict management and resolution. 
"I believe that Mr. Taylor's background and work ethic, including his excellent reputation for collaborative leadership and his ability to think long term, will make him an excellent addition to our VUSD team," stated Superintendent Rice.   
"I am incredibly thankful for the opportunity at Ventura Unified School District and look forward to meeting all the hard-working educators and support staff who positively impact the students of Ventura. The job of retaining and recruiting the absolute best people to work with our students… it doesn't get any more important than that," stated Mr. Taylor.