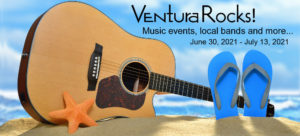 by Pam Baumgardner
VenturaRocks.com
I love a good night of live music, but every now and then you leave a venue with such a smile engrained on your face that the muscles truly ache, but it feels so right. Such was the case when I caught one of Cadillac Zack Presents shows at Cantara Cellars this past week.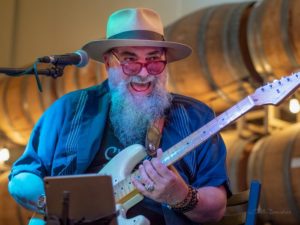 This one featured Jimmy Vivino, band leader for the Conan O'Brien Show. I knew the music would be stellar, but I still was not prepared for what would unfold. For starters, you could tell Vivino was just as anxious for a great night of live music; this was his first live performance since the pandemic hit. When told by the soundman he needed one more minute before starting, Vivino quipped to the audience, I've waited 15 months to play, I guess I can wait one more minute. Vivino would continue to talk to us audience members treating us like friends he hadn't been able to hang out with for so long.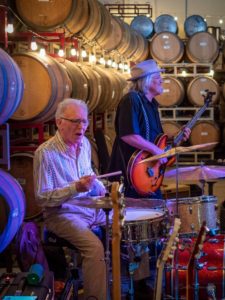 The band was super tight with drummer Vince Fossett, bass player Rick Reed and uber talented Anders LaSource aka Sugarmill Slim on harp. And as much as I loved the blues classics they played, for me it was the classic rock tunes including "Are you Experience" by Hendrix and "Midnight Rambler" by the Stones that cemented that smile on my face. And while all that was fabulous including a killer guest performance by Debbie Davies, it was the unannounced appearance of Fito de la Parra, drummer for Canned Heat that made this night so extraordinarily cool. Imagine sitting there listening to killer renditions of "On the Road Again," "Going up the Country" and "Let's Work Together" with the original drummer of this iconic group when you realize, this man was not only at the Monterey Pop Festival, but he was at freakin' Woodstock!! I'll be smiling for quite some time.
Quick Notes: Pierano's has been approved for a full liquor license; Made West Brewing is back up with live music on most Thursdays, Saturdays and Sundays; Pato Banton & the Now Generation play Mrs. Olson's on July 1; Sick Boy returns to the Sewer on July 2; Tuesdays night Nardcore Nights continue at Rock & Roll Pizza in Camarillo with Free Love Project and No Remorse on July 6, and iDecline with Devil's Daughter on July 13; Ventura Jazz Orchestra w/ Donna Greene perform at Poinsettia Pavilion on July 9; Cadillac Zack presents Guitar Shorty at Cantara Cellars on July 9; Rachel Flowers with Hans Ottsen and Adam Clark will be at NAMBA on July 10; Oceanview Pavilion Performing Arts Theatre by the Beach tribute bands Smooth Sounds of Santana on July 10 ($2 cover); Tommy Marsh will be back in town for a couple of dates as Crooked Eye Tommy, first at Grapes & Hops on July 9 and then at Winchesters on July 11; Surfer's Point Live just announced Scotty McCreery and Rodney Atkins for July 30, Sublime with Rome and Dirty Heads play October 9; and Lukas Nelson & Promise of the Real perform at the Ventura Theater on September 9.
Interview with Wyatt Hull of Hy Brasil
Pam Baumgardner: How did the pandemic affect you as an artist?
Wyatt Hull: The pandemic mostly changed the way I was making music at the time. I went from working songs out live in a studio with a band to recording in my kid's nursery and emailing tracks back and forth to others.
So, you were productive during this time?
Wyatt: It was a roller coaster. At times I did absolutely nothing creatively, using the pandemic as an excuse, and then the pandemic and political unrest would inspire me at other times to write five songs in a week.
What's your latest project.
Wyatt: There are a few. Tyrantula put out a pandemic single called "FUN," Gypsy Death Star has an EP that is essentially ready for release, and I'm currently working on a new record with my Hy Brasil bandmate Nik Gonzalez for a project that we are yet to release the name of.
Who have you been working with on these projects?
Wyatt: Nik and I are currently working with producer Jonathan DeBaun on this new project. We record everything at our homes and email mixes back and forth until completion.
How about plans to market and get the word out?
Wyatt: At the moment we are choosing which management we want to go with for this new endeavor so that ball will be in their court we hope.
How is it you ended up providing songs for the Casamigos ad campaign (Casamigos is a tequila company co-founded by George Clooney)?
Wyatt: The director of the Casamigos video campaign asked me to write some music for the ads but they didn't give me much time. This being said the songs were all written and recorded with local Ventura friends on the spot in one night live at the Captain's Quarters Studio here in town.
What's next for you?
Wyatt: Next for me is focusing on getting this new record completed and unleashed to the world as it showcases a new and heavier sound for Nik and I lyrically and musically. A lot of it reflects the insanity that was 2020 so the sooner we can release it the better.
You can find out more about Hyatt's projects on Facebook.
Don't forget to tune into the Pam Baumgardner Music Hour on KPPQ-LP out of CAPS Media for music highlighting artists out of the 805 and artists who come to the 805 to play including the new music from Ray Jaurique, Scott Detweiler, Dylan Garica and Jason Brock. I think I'll have to drop in a Canned Heat tune this next week as well.
Do you have any music-related news or upcoming shows you want help publicizing? Please send all information short or long to [email protected], and for updated music listings daily, go to www.VenturaRocks.com.