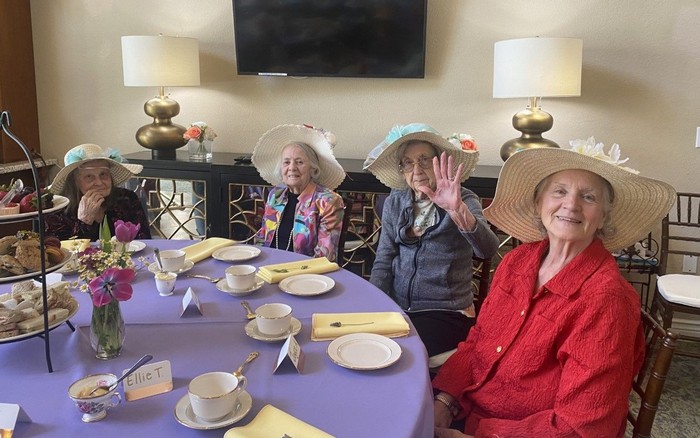 A year ago, Mother's Day looked much different than it did this year – Zoom celebrations or phone calls took the place of hugs, flowers, brunch, and more for most. But now, with the majority of older adults having received their COVID-19 vaccinations, Mother's Day 2021 marked the first major holiday with some semblance of normalcy for area seniors.
At Aegis Living Ventura, a local assisted living and memory care community, residents came together for a day-long Mother's Day celebration and afternoon high tea event for all to enjoy.
"After witnessing the resilience of my residents during this past year, it warms my heart to honor them today and experience the pure joy in their faces as we celebrate Mother's Day," said general manager Sam EL-Rabaa on Sunday.
The morning kicked off with salon appointments for all. Residents enjoyed hair styling, manicures, and makeup so they would look their best for the afternoon tea. Each resident attending high tea received a rose and a beautiful hat adorned with flowers when they arrived. The Aegis team served tea and sparkling wine along with light bites such as scones, pastries, sweet treats, and tea sandwiches. A local pianist played lovely tunes to top off the event.
Resident Donna Hassel commented that the day gave a "sense for what it was like a year ago to be with friends once again." Another resident, Marilyn Wilson, noted, "I've been here 10 years and this, by far, is the best Mother's Day event I've attended."
This event was just the beginning of what Aegis Living hopes will be a lovely spring and summer, as well as an overall step back to normal this year. The community is enjoying daily group activities, residents are welcoming visitors once again, area outings are being planned, and much more. Nearly 100% of Aegis Living Ventura residents and 90% of staff are vaccinated.
"We've been waiting for this special day, and many more to come," said EL-Rabaa. "We are even more grateful for the small things we are able to enjoy again – from dining together to visiting with family and talking with friends. Having a community-wide celebration was such a gift for residents and staff alike."