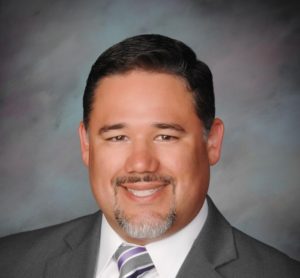 After a months-long competitive search, the Ventura Unified School District (VUSD) Board of Education, has voted to hire Dr. Antonio Castro as the new Assistant Superintendent of Educational Services. Dr. Castro will began his new role on April 8, 2021. In this new role, Dr. Castro will oversee departments such as; Curriculum and Instruction, Early Childhood Programs, Multilingual & Multicultural Education, Special Education, Student Support Services, and Health Services and Prevention Programs.
Dr. Castro brings a wealth of knowledge and expertise that will serve him well at VUSD. Since 2016, Dr. Castro has served as the Associate Superintendent of Educational Services at the Ventura County Office of Education. He has been highly effective in this role with oversight in the areas of Comprehensive Health and Prevention Programs, Curriculum & Instruction, Early Childhood Programs, Hearing Conservation, Leadership Support Services, Research & Evaluation, Accountability & Continuous Improvement, Administrator and Teacher Induction Programs, Expanded Learning Program and the Local Control & Accountability Plan.
Dr. Castro also served as the Director of Student Support Services, the Director of Special Education, and the Principal of Los Cerritos Middle School while working for the Conejo Valley Unified School District from 2006-2016. He began his career in the Simi Valley Unified School District as a Special Education Teacher.
"I believe that Dr. Castro's background in facilitating school improvement, his reputation for building positive relationships with District personnel and community agencies, his ability to innovate with the use of technology and online learning platforms, his familiarity with implementing districtwide initiatives, and his history of improving outcomes for high needs students will serve our community well. In addition, Dr. Castro has worked with our teams here in VUSD for some time and is very familiar with our Local Control Accountability Plan (LCAP), and will be ready to hit the ground running as we continue to address the immediate and long-term impacts of COVID-19," stated Dr. Roger Rice, Superintendent.
"It is such an honor to join the Ventura Unified School District as the Assistant Superintendent of Educational Services. VUSD has an established history of elevating voices, aspirations, and pathways to possibility within the community. I look forward to forming rich connections with our students and their families and contributing to the district's tradition of celebrating diversity," stated Dr. Castro.
The Ventura Unified School District (VUSD) is located in Southern California, in the coastal city of Ventura, approximately 70 miles north of Los Angeles. The District is made up of an early childhood education program, 26 elementary, middle, and high schools, with more than 16,000 school-age students, an adult education center, 2,000 staff, and a wealth of parents and community members who all strive to help our children find their passion— academically and personally. For more information, visit www.venturausd.org or call 805-641-5000.