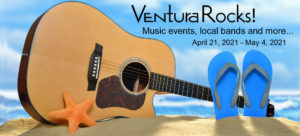 by Pam Baumgardner
VenturaRocks.com
As we get back up to speed and navigate social protocols in place to protect us and others, you know, so we don't slip back into another lockdown, please do your best to abide by the rules. I appreciated the fact that Winchesters had Will Breman read the rules before he started his set last week; he looked a bit worried when a woman got up to dance, but a waitress politely reminded the patron about the "no dancing rule." She looked a bit put out, but sat back down. Jeez, really? Do what the rest of us do and dance in your seat! It's a small price to pay as we get this pandemic under control.
Meanwhile, I'm happy to report that Grapes and Hops will reopen on Thursday, April 22, with a new menu and a couple of modifications to the establishment (including full bar coming June 1). Live music is back on the weekends with Dave Parsonage on Friday, April 23, The Swillys 2-5 and "Dive Bar" Steve Kramer 7-10, then on Sunday afternoon 2-5, it's Shawn Jones.
Quick Notes: Jill Martini & the Shrunken Heads are back to playing Friday evenings 4-6 at the Harbor Cove Café in the Harbor; Pedals & Pints Brewing Company is looking for artists to perform at their establishment, if you're interested send them an email [email protected]; Concerts in Your Car recently added War to their lineup for Saturday, May 29; and Caffrodite at 1987 E. Main Street has been hosting live music Saturday mornings 9 am – noon.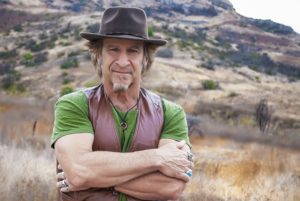 In this issue of the Breeze, I catch up with Bill Rotella. Bill has sent me music over the past couple of years to share on my radio show and he never ceases to amaze me with his songwriting ability, quality of sound and over all fun vibe. On his latest project, Smoke & the Earthtones delivers the vintage sound of California rock.
Pam: First off, get us up to speed on your musical journey.
Bill Rotella: I guess you could say my musical journey began at eight when my parents got me piano and drum lessons. And, there was a lot of music in my house growing up. My dad, Johnny Rotella, was a top session player in L.A and recorded with some of the great '60s and '70s artists (Zappa, Turtles, Nillson, The Wrecking Crew, etc.); he took me to sessions and concerts. So, I saw it early. He also wrote songs for Sinatra, Dean Martin, Tony Bennett, etc., which exposed me to the song writing process. My mom, Anna Graziano, was also very musical. Her brother, my Uncle, was Jerry Gray the famous big band arranger for Glenn Miller (String of Pearls, etc.) and she was always singing or playing piano. Hearing music all the time was the first step on that journey.
Then, in college I was playing guitar and started a Southern Rock band, Baywood. We had a large following from playing the CSUN PUB and The Palomino Club in North Hollywood. We were signed by Greenlight productions (Night Ranger) and recorded an album for them and another two albums for an indie label, Bison Records. Baywood was my '80's band. When the '90s arrived I formed a new band, Dakota. We were signed to Budweiser and other sponsors for 10 years. We did over 100 shows a year, here and in Europe, …for 20 years. I wrote and recorded three albums for Dakota. Then I went solo for a bit recording three albums before I started a Folk 'n' Soul duo, Amber & Smoke in 2016. We performed more than 500 shows and recorded four albums in four years. Now, I perform and record solo and with my album band, Smoke & The Earthtones.
Where have you played in the area?
Bill: My first Ventura County gigs were at The Holiday Inn. I was there monthly in the '90s with Dakota. Those were great gigs. That downstairs bar would get packed and the ocean air coming through the patio doors was great…especially at 1:00 a.m. I remember meeting George Martin (Beatles, America producer) sitting at the bar. That was cool. I did a lot of gigs at Café Fiore and Bombay's as well. In outer Ventura County I play at The Strawberry Festival, DeLiese Cellars, Café Firenze, The Collection Concert Series, Copper Blues and others.
How, when and why did you land in Ventura?
Bill: My agent at the time booked me in Ventura. I was booked a lot in L.A. and I wanted to put some miles between gigs. Not only to avoid saturation, but because I wanted fresh ears for my original music. Now, I live in Ventura County and I have family in Ventura.
Has music been a side labor of love…or your main income over the course of your life?
Bill: When the club scene was healthy, music was my only source of income for many years. However, now it requires many nets. Live performances, song royalties, merchandise sales, song placements, etc. Now I have other sources of income because I've chosen to gig a bit less; I recently discovered I'm not 25 years old anymore.
How has the pandemic influenced your life?
Bill: Interestingly, that lemon of a year did become lemonade. (sorry) At first it was a real drag due to cancelled shows. Then all that quarantine time led to a batch of new songs which led to a cool reunion with former bandmates who were all in town from cancelled tours. I wanted to record an album like we used to, in the round, before home studios and bouncing tracks back and forth via the internet. So, I called three of my favorite ex-band members, local guitarist Doug Pettibone (John Mayer, Keifer Sutherland, etc.), Ryan Brown, (drummer with ZPZ band/ Dweezil Zappa) and Trent Stroh (Zeppelin USA). We went into the studio, together, and Smoke & The Earthtones was born. The quarantine experience became the quarantine band and the title track of the new album -Smoke & The Earthtones.
Were there live stream performances, or collaborations with other artists via Zoom or other platforms?
Bill: I heard fans and friends expressing their need for live music. They weren't alone. All that distancing was taking a toll on us all. So, at the beginning of quarantine I did a series of 11 weekly Facebook concerts – "LIVE @ 5" – which were SO much like doing a bar gig. They could comment back and forth with each other as if they were sitting at a bar. It was cool for them, and me, to stay connected. I also did monthly zoom concerts for a spiritual community.
Tell me more about your most recent project.
Bill: I wrote the song "Smoke & The Earthtones" about a fictitious band that came to the rescue during quarantine, that song led me to actually create the band. The new album features the "Callifornia sound" of the '70s and it's available on vinyl which also is relevant to the lyrics of the song.
What are your short-term and long-term plans now that we're hopefully (knock on wood) seeing the light at the end of the tunnel?
Bill: I'm looking forward to that great energy exchange that happens from live shows. Some of my shows here, New York and elsewhere are still not re-booked but we gotta do it right. So, I'm cool with being patient.
Anything else you'd like to share?
Bill: I count my blessings. I'm grateful I had parents who shared their gift of music. So, I'm trying to do the same. My daughter Brianna played flute, autoharp and sang on a few tracks and my young granddaughter Viola appears in a few music videos, turns knobs in the studio and is already showing signs there will be more music coming from the next generation in Ventura.
If you would like to find about more about Bill Rotella and his newest project Smoke & the Earthtones, go to his official website BillRotellaMusic.com. You can view videos, read more about all his past projects as well as finding all the links for his music including Spotify, iTunes, Pandora, and more.
Don't forget to tune into the Pam Baumgardner Music Hour on KPPQ-LP out of CAPS Media at 104.1 FM here in Ventura where I'll be spinning the new Smoke & the Earthtones. My show airs Tuesdays at 5 pm with repeats on Fridays at 5 pm and Sundays at noon. You can also listen via the MyTuner app on your smart device or online at CapsMedia.org/radio.
And finally, the latest installment of the VenturaRockSpot has been released featuring Christine Law of Star Goes Nova. Christine is just an amazing artist having worked with so many artists in the past (Suzanne paris, Martha Davis, Charles Law & Jagged, John Baffa) and now she's ventured into the EDM spectrum of music. Catch this episode and all the previous 27 at VenturaRockSpot.com.
Do you have any music-related news or upcoming shows (online or live) you want help publicizing? Please send all information short or long to Pa[email protected], and for updated music listings daily, go to www.VenturaRocks.com.