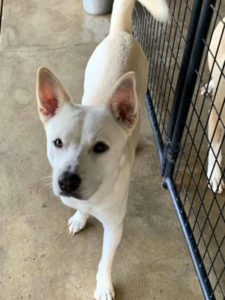 Hi: I'm Halo, a handsome 2 year old Shepherd / Husky X in need of a new home. I was found as a stray with another dog by individual rescuers and happily joined them in their car.
My rescuers say I'm a good boy who is friendly, energetic and athletic. They think the best home for me would be with experienced dog owners, a six-foot secure fence, no young children (12 yo and up would be fine) and no cats. Meet and greets would have to be done if you already have a dog in the home.
If you're interested in meeting me, please fill out an online application. Canine Adoption and Rescue League C.A.R.L.CARL Adoption Center-call 644-7387 for more information.
---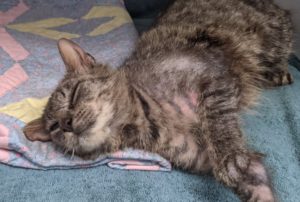 Making muffins is Te Ka's favorite past time. When this girl isn't making muffins she is trying to get all your attention. She came in with scabies (poor thing), but has been treated. Her fur will grow back, but not as fast as she'll win your heart. Ventura County Animal Services – Camarillo location – 600 Aviation Drive. Te Ka A768977