Breeze:
In regards to former Mayor Sandy Smith's March 10th comments about the shortage of water from ground water wells and Lake Casitas, he forgot to mention the many new housing units currently being built in our city. I'm in support of higher rates because of the great service the water company does with limited resources. Also,thanks to the past and present city council members for getting us closer to being like our neighbor city of LA.
Thanks
Breeze Supporter
Chris Reinhart
---
Breeze:
To vaccinate or not to vaccinate? Responsibility to vaccinate is individual. Revolving questions to vaccinate or not keeps us stuck in perpetual indecision mode. Such as, will I get sick, will it be effective and for how long, why the need to wear a mask and stay six feet away after vaccinating are on the minds of most. The array of theories highjack's common sense, creates confusion and fear, leaving us wondering what's right for us individually and collectively.
Yes, our world has been turned on its ear, for one year! We've been living on the edges of survival for longer than anticipated, weathering the fallout from the great pause and pandemic storms of 2020. Even the freedom to hug, gather in crowds, eat indoors, come and go mask less may seem light years away.
The tipping point is in tow and a reality for 2021. History has shown the herd mentality can tip the scales and level out our normal. Learning, changing, growing starts with suiting up, showing up and opening up to new thinking and doing. This allows our perspective to reshape and fill the holes of ignorance with knowledge, understanding and ultimately compassion.
We can no longer afford to ignore the decline even extinction of plant and animal life on earth! Our personal and world views are seen from the vistas and peaks of our minds. We trek our way by way of braving the elementals, environmentally and emotionally then with new eyes watch them transfer change into and onto our everyday life. We are moving towards a new dawning of humanitarianism and by shaking hands with regenerative action, renewal shall surely follow.
Karen Leslie
---
Opinion:
We appear to be in a rush to vaccinate school employees and teachers to facilitate reopening in the very near future. But I recently learned that schools will close for the summer (late May or June), putting students further behind and directing vaccines to school employees who might not have needed the vax right away given impending summer closures. Given all the other adjustments made during the pandemic how about adopting a year round school schedule for the next year so students can catch up. 
Theresa Stevens Ojai
---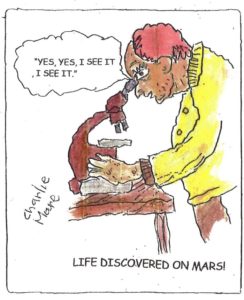 ARE YOU AN AMATEUR CARTOONIST? SEND YOUR CARTOON TO [email protected]
---
The only way to combat criminals is by not voting for them.
~ Dayton Allen
---