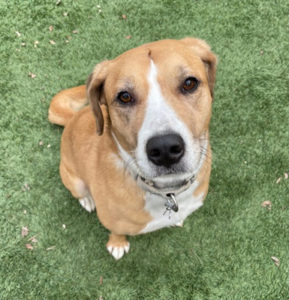 Hi, I'm Artie, an energetic 31/2-year-old American Staffordshire / Australian Shepherd with some Rotti and Chow mix. I'm in need of a new home as I and the special needs child in the home make each other too amped up. When I get too excited, I tend to nip.
I would do best in a quiet/calm adult only home. If it gets too chaotic, I need anxiety medication. In a quiet/calm environment, I'm fine and don't need the medication.
I need a home with no small children, no small dogs and no cats. I'm good with large dogs. I'm house/crate trained, know how to use a doggie door and I'll even let you know when I have to go outside. I know how to sit and stay, but I need leash work.
If you think you can give me the home and environment I need to thrive, please fill out an application to meet me.
Canine Adoption and Rescue League C.A.R.L.CARL Adoption Center-call 644-7387 for more information.
---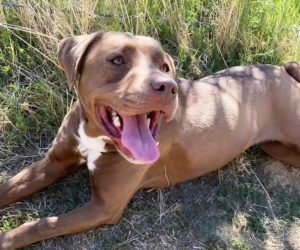 The first thing you may notice when you meet Claire is her adorable little corkscrew tail, but as you get to know her, you'll realize that her personality is pretty fantastic as well! Claire is a little bit timid when you first meet her, but she quickly warms up and then loves to play with tennis balls and soft toys.
Claire is a smart girl and knows how to open her kennel door, so a secure backyard is a must! Claire would love to go to a home where she can get regular exercise and activity and lots of time with her people. We are sure this sweet girl will be your new best friend!
If you think Clair would be a good fit for your home, please make an appointment with one of our Adoption Counselors to get more information! www.vcas.us/scheduling. Ventura County Animal Services – Camarillo location – 600 Aviation Drive. Clair A767407