by Pam Baumgardner
VenturaRocks.com
Little by little Ventura is coming alive and a handful of venues are already offering live music outdoors including Caffrodite, Copa Cubana, Leashless, the Cave and the Shores. Check VenturaRocks.com for updates and the daily music listings, along with the latest VenturaRockSpot featuring Jayden Secor (coming soon, Christine Law and her project Star Goes Nova, and Guy Martin).
After a "winter break," Concerts in Your Car is slowing rolling out their line-up, with an April 10 date with Opera Santa Barbara presenting Don Pasquale, and the following week April 17 (two shows) with Ziggy Marley and a live tribute to his father. Down in Oxnard at the Performing Arts Center parking lot, the carpool jams pick up on April 2 with a Foreigner tribute by 4NR, a tribute to Led Zeppelin's Robert Plant by Robert Plantation on the 3rd and the following week on April 10th, it's Erotic City and their tribute to Prince.
Meanwhile, this music scene column highlights local artist Jason Brock. His Facebook page states he is a… "self-described grunge rock hippy guitarist and songwriter whose passion for music rivals his passion for compost. Slightly geeky, slightly goofy, and slightly stoopid. Blessed to be surrounded by beautiful people."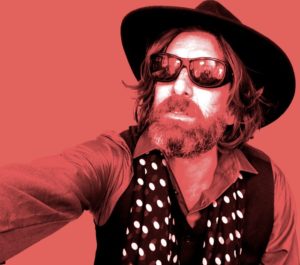 Jason is a career independent musician whose bands, solo albums, record labels, and nonprofits have all the aim of empowering artists to create regardless of their position in the hierarchy of the business world and he serves on the board for the Ventura Artists' Union.
Pam: How and when did you get involved with the Ventura Artists' Union?
Jason Brock: I started working with the Ventura Artists' Union when the Art City Gallery was being designed.  At that time, the organization was dormant because they didn't have a gallery to show in.  I didn't know Ventura had a non-profit that was dedicated to supporting local artists. That's how I found out.  Since I had previous experience in organizing, running labels and nonprofits I felt like I could contribute to launching the VAU's next chapter.  My personal goal is to foster the musical side of the nonprofit's programming by promoting musicians and supporting local music.
Are you one for hanging out in the music scene here in town?
Jason Brock: I guess so, though that's a hard question to answer.  I'd say I like to create scenes where musicians want to gather.  That's why I helped run Under the Bed for two years.  It was like an underground Green Art People.  Right now, there is a scene starting to happen at Caffrodite Community Coffee House in midtown.  Cory Highberg is bringing musicians together there.  I think we need another venue in town that provides that kind of open canvas for music.  If you know anyone that has a space like that let me know!  
I know you're working on an album where you release a track a month; explain what the process looks like.
Jason Brock: I just released [the song] "One of A Kind," and I'm trying to record a track a month, but in reality it's a mark I'm using to create deadlines for myself.  I work well if I have a mark to hit, otherwise I just write and write and never release.  I have a lot of songs I'd like to record, and if I think on that level, I get overwhelmed.  I also have to balance the creative process with the promotion and business side.  As an independent artist you have to wear many hats.  Good news is it's possible.  So, one single at a time is a good way to go for me.  I'm working on my next one right now, called "Common Thread," which should drop at the beginning of April if all goes well.  It's a rocker!
As far as the recording process goes, I record everything at home, mix and master, except for my most recent single "One of a Kind" which features David Uosikkinen on drums and Kenny Aaronson on Bass.  They recorded their parts at their home studios in Philly.  We had this one professionally mixed and mastered by Dave Downham at Gradwell House Studios.  I think we did a great job of sounding live, even though we're in different time zones.
"One of a Kind" wasn't' the first track? 
Jason Brock: One of a Kind is the fourth single I've released since I started when the pandemic hit.  I had all this extra time on my hands, and I was already recording so I just decided to step it up a notch.  My first single was "Dubbers and Rex" which was released in June of last year.  In August I released "Shine" which was inspired by the Black Lives Matter protests, and then in December I released "Ashes to Dust."  All of those tracks were self-produced at home.
Will this be your record or a group effort?
Jason Brock: I am the main songwriter at this point in time, though I'm totally down for collaboration.  Working with Dave U is really lighting me up right now.  He's a multi-platinum artist with tons of experience.  He brought Kenny Aaronson in to record bass, and Kenny is a monster.  He's played with some heavy hitters such as Bob Dylan, Joan Jett, Brian Setzer, etc. etc.  I'm just enjoying the creative flow, wherever that leads.  
Do you already have the tracks in mind? Or writing material as you go along?

Jason Brock: I have an idea of what I want, but things change along the way.  For example, I produced a live stream concert to help launch "Ashes To Dust" and the songs took on this unexpected feel because of the musicians I was playing with, so I went with it.  I'm a big supporter of accentuating the artists in the room.  With that said, I have a direction, songs that rock live, have meaning and sound great in headphones.  Some of them are already written, some are in various stages of completion.
Sum up what Spinningmerkaba is all about.

Jason Brock: Spinningmerkaba is my remix pseudonym at ccMixter.org, a creative commons remixing site where musicians and producers from all over the globe come to share and create music.  Anyone with a creative itch can go there and remix my songs, or get remixed by me or other top-notch producers.  It's a free-for-all, which makes it fun and weird and spontaneous.
Anything else you'd like to add? 

Jason Brock: I'd like to say thanks to you and my family and friends who support me and my art.  We're all connected and we all rely on each other.  I'd also like to say to anyone out there reading this, that you can do it too.  The tools are all out on the table.  Get creative and make some art.  You'll find parts of yourself along the way that you'd never find if you didn't put it out there.  Have fun!  It's only rock and roll….
Amen!
For more information on Jason, go to JasonBrockMusic.blogspot.com or follow him on Facebook.com/jason.brock.927,

Don't forget to tune into the Pam Baumgardner Music Hour on KPPQ-LP out of CAPS Media at 104.1 FM here in Ventura where you can hear from local artists like Jason Brock. My show airs Tuesdays at 5 pm with repeats on Fridays at 5 pm and Sundays at noon. You can also listen via the MyTuner app on your smart device or online at CapsMedia.org/radio.
Do you have any music-related news or upcoming shows (online or live) you want help publicizing? Please send all information short or long to Pa[email protected], and for updated music listings daily, go to www.VenturaRocks.com.