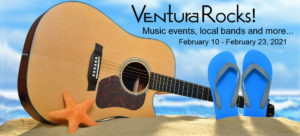 With the Stay-at-Home order lifted, venues are doing their best to get stabilized yet again. I've seen one or two postings on social media about solo artists playing during dinner one or two nights a week (Peirano's and the Cave), so it's a start. Meanwhile, I've reached out to another musician to talk about his latest project.
I met Darren "Zorba" Cruz back in the 90's when we added the Ska Daddyz to our regular rotation at 96.7 the Bus, Ventura's own alternative rock station. He's been in many projects between then and now including Irie Ites and Strand Quentin. I caught up with Darren for a quick Q&A on his most recent enterprise to get the story behind Free Love Project 805. Pam: How did this project come about?
Darren: The Free Love Project 805 started as my idea in March 2020. It was just supposed to be a couple of songs I wrote and recorded with some friends from other bands because we always talked about doing a
collaboration. I had songs I wrote in Puerto Escondido Oaxaca Mexico, sitting around, not my band's genres. I was listening to Santana"s Supernatural Album. He is my idol, I started hearing all the different styles and artists, I thought to myself this is genius, I can do that here in the 805. I put out a post on Facebook stating I need a female vocalist for an unplugged duet I wrote called "Insanity" out now on all platforms, the response was overwhelming. I had bands and solo artists lining up like Stalag 13, I Decline, Ill Repute, Raging Arb, Night Demon, The Question, Rising Son members, my reggae band, Collaboration, All A Blur, Bobby Campbell, Brandon Cruz, Dalton Cruz,and more. I also did a song with Peter DiStefano (Porno for Pyros guitarist) called "Closer" a 60's vibe rock 'n' roller.
Pam: So then you are the brainchild behind all this, well done!
Darren: Yes, to be clear I got sober over a year and a half ago, had I not had some time under my belt none of this would be going down.
Pam: Why the name Free Love Project 805?
Darren: This is a totally DIY project with no funding, no rules, when we want. how we want, we don't need the money to express our emotions and talent. Record companies get money off of us artists for a talent that was given to us for "FREE." Money has not even been a topic amongst the parties involved, this is not a get-rich scheme.
Pam: Tell me about the songwriting and recording process.
Darren: I do all the music songwriting, some are complete songs, I even sing lead on a couple of them. On a few of the songs the vocalist would write the lyrics. See a big part of why this project is doing well, is because I asked some of these bands and artists to step out of their normalcy. As an analogy, I went to the supermarket and bought all the groceries for the shindig, I took the ingredients to the chefs whom I'm working with and said, `You think we can make a great meal with this stuff, that we would be proud to serve? Then we started cooking it up in some of our fancy restaurant studios such as Armand's Captains Quarters Recording Studio, Somis Sound Studios. Chingaso Records, MegaSound Studios. We have cooked up 10 killer dishes so far, 5 are almost done.
Pam: How has the response been on social media?
Darren: The response has been excellent, I've been on KTYD, Channel 3 news, and there's been a write up in the VC Reporter. Other local media offers are in the making. I'm releasing two songs at a time starting in March.
Pam: Post pandemic, what's the plan?
Darren: Post Pandemic plans? Good question, unfortunately I don't have an answer for that; nobody knows, however there is one thing I know, and that is I smell a unity of musicians fed up with the industry standards of red-tape communism. We are treated like other country's Olympic athletes, in other words, treating our own athletes in the amateur ranks. Pay to play? [email protected]# that! BANDS SHOULD NOT PLAY for FREE ever AGAIN!! The internet evened the playing field, Coronavirus gave ME the chance to see all this can be achieved by us artists. DistroKid killed the record executive star, LOL.
[DistroKid is an digital platform founded in 2013 for musicians to upload their music into online stores and streaming services]
Don't forget to tune into the Pam Baumgardner Music Hour on KPPQ-LP out of CAPS Media at 104.1 FM here in Ventura where you can hear the first single,"Insanity," from Free Love Project 805. My show airs Tuesdays at 5 pm with repeats on Fridays at 5 pm and Sundays at noon. You can also listen via the MyTuner app on your smart device or online at CapsMedia.org/radio. Every show I feature artists out of the 805 and artists who come to the 805 to play as well as a handful of indie artists I've come across.
Do you have any music-related news or upcoming shows (online or live) you want help publicizing? Please send all information short or long to [email protected], and for updated music listings daily, go to www.VenturaRocks.com.