Lily Duarte, Director of Wellness for Cypress receives a dose of the vaccine from Vi Nguyn, Pharmacy Manager.
by Richard Lieberman
Cypress Place Senior Living in Ventura has partnered with Vons Pharmacy to administer the COVID-19 vaccine to residents and staff at the senior living center. The vaccine clinic took place at the center on January 26, 2021. In compliance with state regulation the center was able to offer its residents, who must be seventy-five or older in compliance with state regulations for "first tier" group. As part of the U.S Government's Pharmacy Partnership for Long-Term care communities will have access to the vaccine over the next several weeks in the first phase of distribution.
Director of Wellness at the center Lily Duarte, after receiving the vaccine said, "It felt like the beginning of a new road." Duarte a fourteen-year veteran at the center. "This has been an amazing experience, it has been a long time coming," added Duarte. "We are happy to be on the forefront of protecting our residents and staff members and bring our community back to a sense of normalcy."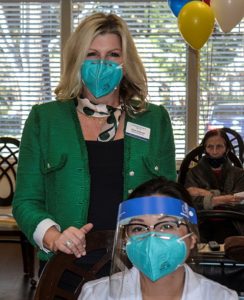 Executive Director, Gina Salman was thrilled at being able to offer to long term residents the first round of vaccinations. "Today represents hope for my staff and residents. We had planned this for weeks and giving the vaccinations and finishing it is a representation of hope and, we have talked about a reflection of gratitude, this experience has been difficult, but it really made us think about what we are grateful for and how much we really have. The Director and staff members and residents have voiced feelings of happiness and relief. Staff and residents have been extremely patient which I am grateful for."
"Thank goodness we have been so incredibly fortunate and appreciative of the support we have gotten from the Vons's pharmacy; they support our flu clinic every year and they have pulled through for us and we are eternally grateful." Said Gina Salman.
Chai Nguien is a pharmacist for Vons and helps in coordinating vaccine events and she works closely with the department of health of Ventura County in setting up these types of events. "We currently have the Moderna vaccine, sometimes we even have extra doses" she said. "I think we are all doing our best right now and I think we are doing a good job, this is new for everybody from the county, state and federal level." She added.
Access to the COVID-19 vaccine adds another preventive measure bolstering the center's commitment to the safety and well being of residents and employees. Cypress remains open offering its services to seniors who may need their services.
The senior community also continues to provide informative seminars to the public at large, all done virtually due to Covid-19.  The next seminar, titled  "Moving Made Easy – Dealing With Downsizing" will he held on February 18, 2021 at 1:00pm.