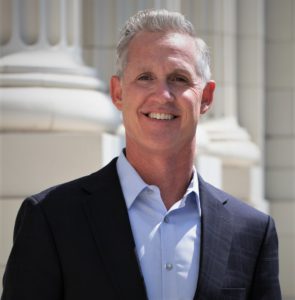 It's an understatement for me to say I care about Ventura, having been born and raised here. My family's roots in Ventura start in the 1950s—my parents live in the same Pierpont Beach house where they raised my brother and me. As an alumnus of Pierpont Elementary, Cabrillo Middle, and Ventura High, I even had some of the same teachers and coaches that my parents had. It's a legacy I'm proud to uphold, having brought up my own daughters in Ventura. My father owned and ran a small business in Ventura, and that entrepreneurial spirit was passed on to my brother and me at a very early age.
After I graduated from UCSB, I returned to Ventura to cofound and run a technology company helping individuals with disabilities, where I worked for nearly 30 years. I'm now a Realtor and business partner with my mother, Grace Gaston, who has been a local Realtor for over 30 years. My brother has owned the largest salon and spa in Ventura, Michael Kelley, for years, and recently, my wife Nicole Gaston founded her own salon, The Ivy Mae, in 2018.
My family continues to grow its roots in Ventura's soil. With my family's broad experience as small business owners, supporting small businesses is extremely important to me. It's one of the main reasons I wanted to run for City Council; investing in small businesses is investing in Venturans. I'm running for Ventura City Council District 3 to address the urgent and immediate issues affecting our City. I am committed to focusing on a robust local economy, supporting small businesses, improving public safety, preserving our environment, and addressing homelessness and housing issues. I am deeply committed to serving my constituents in District 3. It will be a privilege to represent you, and I will work tirelessly to ensure that your voices are heard. I believe in teamwork, not divisiveness, is essential to solving the challenges we are facing in this unprecedented public health and economic crisis. I am honored to have endorsements from Mayor Matt LaVere, former Mayor and Councilmembers Jim Monahan, Brian Brennan, Mike Tracy, and Sandy Smith. VUSD Board of Trustees Velma Lomax and Matt Almarez. Local labor unions IBEW Local 952, UFCW Local 770, Laborers local 585 (LiUNA), UA local 484, IUOE Local 12, Ironworkers Local 433, Southwest Regional Council of Carpenters (Local 805). City of Ventura Firefighters Association and City of Ventura Police Officers Association, and Ventura Chamber of Commerce PAC.
If you want to learn more about me, I welcome a conversation either in person or by phone. I can be reached at 805-242-6348 or [email protected].