New President Named of Nashville Superspeedway
Erik Moses has been named president of Nashville Superspeedway, becoming the first Black man to hold that title at any NASCAR track. Moses said he was welcomed to the industry this week by NASCAR President Steve Phelps and takes control in a year where the series has been swept up in the reckoning of the nation's racial issues. "Any time that you have the distinction of being the first at anything professionally, it is a humbling kind of honor," Moses told The Associated Press. "That said, I'm not naive enough to believe that I'm the first person of color qualified enough to run a NASCAR track. I'm going to focus on the job. I got hired to do a job, not because of what color I am."
Black Americans are bearing the brunt of coronavirus recession
Extracted from article in TheConversation.com
As the COVID-19 pandemic worsened in April, many Americans were shocked by the extent that black Americans were being disproportionately impacted: higher infection rates, more deaths and greater job loss. But many black Americans were not surprised.
Economic history repeating itself. Prior to this pandemic, the worst economic downturns in post-World War II America were the 1981-82 recession and the Great Recession that followed the 2007-2008 financial crisis. During those downturns, the jobless rate of black Americans peaked at 20.2% and 14.8% respectively. From each downturn's onset, it took 16 and 18 months to hit those levels.
This pandemic has eclipsed those figures in just one month. My estimate – based on the historic link between the unemployment rate and initial claims, and April's data – has the black American unemployment rate already exceeding 20%, compared to a white unemployment rate of 13%.
Black Americans have higher likelihoods of losing their jobs because those jobs are concentrated in the hardest-hit sectors of the economy, such as hotels, restaurants, bars and other food services, and department stores.
Many who have kept their jobs face higher risks of infection because they work in "high touch" jobs such as transit workers and grocery clerks.
Further, because they tend to live in more densely populated communities, they also have a harder time practicing physical distancing. This, along with the long-standing chronic health challenges of many black Americans, puts them at greater risks of infection, illness and death.
Black infants die two to three times more often than white infants.
A pediatrician explains. Extracted from article by Patricia Temple Gabbe, M.D.
From Boston to Indianapolis racism has been declared a public health crisis in a growing number of cities and counties across the nation. In Ohio, state lawmakers are considering a resolution that would make the state the first to do the same.
As a pediatrician, I know racism is a significant public health crisis in Ohio because I see racism every day. I see it in the disparities in infant deaths in our neighborhoods, in our cities and in our state. We measure the quality of our public's health by the infant mortality rates – the death of a live born infant in its first year of life. In our major Ohio cities and in our state, we woefully fail to meet standards. Black infants die two to three times more often than white infants. It's been this way for generations.
Why disparities in infant deaths? Today, Black babies bear the burden of generations of stress and unequal treatment. They're too often born very early in their mom's pregnancy. They struggle to breathe in our hospital neonatal intensive care units, to survive those early days, weeks and months of life. They start life at a disadvantage. They live in poorer neighborhoods, more often in a homeless shelter, and go to poorer schools, with disabilities from prematurity. They grow up with the same chronic conditions as their parents, living with more asthma, hypertension, diabetes, severe anemia, anxiety and depression from life's circumstances, through no fault of their own.
From our moms and dads, we learn the hard reality of why disparities exist. We see repeated evictions that uproot families and prevent children from sleeping and learning in a safe environment. We hear about the impact of hunger and lack of access to good, healthy food while pregnant. We hear how losing a job while pregnant without maternity benefits leads directly to an eviction and the homeless shelter. We hear how taking two hours on public transportation can make you late for a job or for an appointment and cause you to lose your job.
We see Black fathers in our Dads2B program who are struggling to find work that will pay the utilities and the rent and put food on the table. Yes, this does happen in white families, too. But for black families, there's been structural discrimination for generations. There have been real estate covenants, bank red-lining and freeways built through once vibrant neighborhoods. All of these stressful, local events directly affect the health of our black families.
Toronto Raptors' President Masai Ujiri countersues; video shows officer initiated shoving in 2019 NBA Finals aftermath
From ESPN
A countersuit filed by Toronto Raptors president of basketball operations Masai Ujiri includes new video footage that shows the San Francisco Bay Area sheriff's deputy with whom he had an altercation in the moments after the Raptors won Game 6 of the 2019 NBA Finals was the aggressor.
The footage shows the deputy – Alan Strickland – grabbed Ujiri by the suit jacket and shoved him, telling him to "back the f— up" as Ujiri was attempting to show his team credential. Ujiri was trying to reach the Oracle Arena floor to celebrate with the Raptors in the wake of Toronto winning the first NBA championship in franchise history against the Golden State Warriors.
Strickland's suit, which was filed in February, alleged that Ujiri assaulted him in the moments after Toronto's victory and that as a result of the incident, he "suffered injury to his body, health, strength, activity and person, all of which have caused and continue to cause Plaintiff great mental, emotional, psychological, physical, and nervous pain and suffering."
Alameda County Sheriff Greg Ahern initially requested Ujiri be charged with battery of a peace officer after the incident took place, claiming Ujiri struck Strickland's jaw and shoulder. Eventually, however, the Alameda County District Attorney's Office declined to press any charges after a month's long investigation ended with a meeting between the office, Ujiri and his lawyers in October.
Doug Smith, the Raptors beat reporter wrote a piece in the Toronto Star highlighting the fact that Ujiri got treated the way he did because he is Black. And Adante Pointer, a civil rights attorney in Oakland, who represents many Black men who have been killed by police, agreed: "This would have never happened if Ujiri was a white man in a suit."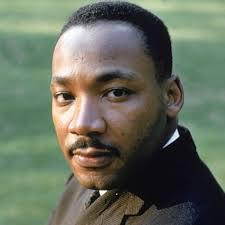 Black Voices in History
It is not possible to be in favor of justice for some people and not be in favor of justice for all people. — Martin Luther King Jr.