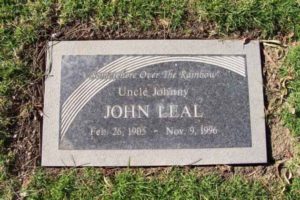 by Richard Senate
A stroll though Ivy Lawn Cemetery in Ventura will show the final resting place of many of our great persons who once made this place home. If you should take such a walk you may come across a unique tombstone with a rainbow and the words; "somewhere over the rainbow." It is the grave of John "Charlie" Leal (1905-1996) a long-time resident of Ventura County. He was a midget and blessed with a beautiful singing voice.  He went into show business, working first in circuses and in 1933 at the Chicago World's fair.  He got a small part in the film "A Century of Progress" that starred Will Rogers. In the film Rogers was shrunk down by a machine with Leal playing the small version of the famed humorist.  Will even taught him some of his rope tricks that Leal used in his circus act where he played Will Rogers.
Another midget, his fiancé Eleanor Stubitz, gave an impression of sexy star Mae West. For a time they worked at The Pike in Long Beach until he found work on a strange western film with an all midget cast called  "The Terror of Tiny Town." This part got him a role on the MGM classic, "The Wizard of Oz."
In that movie he played several Munchkin parts, from a dancer to a marching soldier. He was paid $50 a week (Interestingly, Toto the dog made $125 a week). When World War II came, Charlie found work at the Lockheed plant assembling wings for fighter planes.  He was so small he could get into the wings and buck the rivets that held them together.  After the war he was in another film called "An Angel comes to Brooklyn. That film brought an end to his Hollywood career. He retired to his ranch at Lake Casitas called The Rancho del Rio.
After the sudden death of his wife Eleanor he never remarried. He was know locally for his skills as a hunter and fisherman who threw memorable barbecues. Once a year he invited all the surviving Munchkins to a big barbecue at this ranch.  He never talked about the making of the film much and only in an interview on his 90th birthday did he mention Wizard of Oz star Judy Garland, saying she was a wonderful and talented actress. He died in Ojai in 1996. He was 91 years old. "Charlie" had a long and colorful life that brought joy to many, a life that should be remembered.