Members of Buenaventura Art Association are brightening lives and outlooks during the COVID-19 pandemic with safe, socially distant shows at two Ventura locations, Bell Arts Factory on Ventura Avenue and Ventura Harbor Village.
Face masks are required and operating hours have changed at both galleries.
At Buenaventura Gallery in Bell Arts, solo exhibitions by featured artists Kathy Bodycombe and Lorna Amundson are on display through Sept. 19, concurrent with a Members' Choice group show of 2D and 3D works. Paintings by a previous Outstanding Merit Award winner, Louisa Wallace Jacobs, have a central spot on the gallery's Triangle Showcase.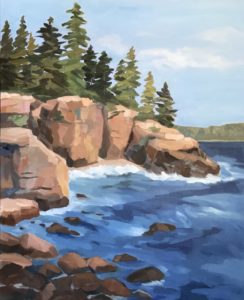 At Harbor Village Gallery & Gifts, a new Members' Show is on view and available for purchase through Sept. 14, along with the art and artisan crafts by the venue's 10 resident artists.
Solo show artists Amundson and Bodycombe, longtime BAA members, use different media to explore the natural world in paintings. Amundson, a watercolorist, has been painting for about 30 years; Bodycombe works in oils on canvas and has been doing so for 20 years.
"My favorite part of creating art is capturing the feeling of a place or activity," said Amundson, who has 13 paintings in her Bell Arts show, plus many original pieces and more than 100 greeting cards for sale at Harbor Village Gallery. Watercolor landscapes are frequent subjects and "Most work focuses on the natural world, some of which is done on site plein air, but increasingly is including work from photographs and imagination."
Before coronavirus limits, she often found her inspiration on trips to the Yosemite Valley, where some of her paintings are available at Yosemite National Park's Ansel Adams Gallery.
Bodycombe has seven paintings in her solo show, plus two in the members' show. Her specialty is coastal landscapes, mostly from California travels (plus one example from Maine), although she also is relying more these days on photos she's taken previously, she said.
She describes them as "a simplified impressionistic style, capturing the shapes as well as the light along the coastal landscapes. I enjoy taking what I see and creating an image that captures the view, perspective, light, mood and ambiance of a particular place in nature."
Buenaventura Gallery, in Studio 30 at Bell Arts Factory, 432 N. Ventura Ave., Ventura, is open noon-4 p.m. Fridays and Saturdays and by appointment by calling 805-648-1235. The Ventura Harbor Village location, at 1559 Spinnaker Drive, unit 106, is open 11 a.m. to 6 p.m. Fridays through Mondays.
For more about the 66-year-old nonprofit artists' cooperative and its programs, visit buenaventuraartassociation.org or call during gallery hours.