BAA Artists in the Time of Corona
Here's another selection from our member artists of what is occupying their thoughts and hands during the COVID-19 pandemic and the Black Lives Matter civil protests.
Plans are afoot to re-open BAA's Buenaventura Gallery at the Bell Arts Factory beginning July 10. The gallery will be open Fridays and Saturdays only. Details are still being arranged. Stay tuned for an official announcement.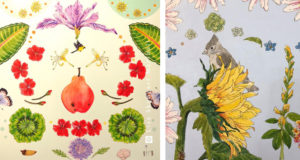 Lisa Skyheart Marshall: A prolific painter, Ojai resident Lisa has been busy creating her detailed and light-hearted watercolor and ink paintings of local flora and fauna.
Joyce Lombard: "I am collaging boots and reaching back in time! I've completed an ankle boot commemorating 100 years of women's suffrage."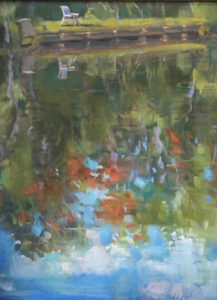 Gina Thayer Niebergall: "Social Distancing on Soquel Creek," 16"x12" oil on panel is a gentle illustration of our experiences in the pandemic.