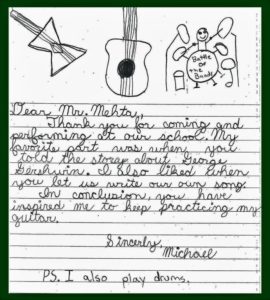 VMF Artistic Director Nuvi Mehta began presenting his Music in the Schools curriculum to children in Ventura Unified more than ten years ago. Today the program is still going strong, supported in Ventura by grants from Aera Energy, the Julius Gius Foundation and individual contributions. Starting Fall 2020, it will also be available to elementary schools in Santa Paula thanks to a small, just-announced grant from Limoneira.
With life as we all knew it currently on hold due to the Pandemic – and wanting to communicate something musical and uplifting to our supporters – it seemed an excellent time to share some of the Music in the Schools reviews written by audience members from the 3rd, 4th and 5th grades.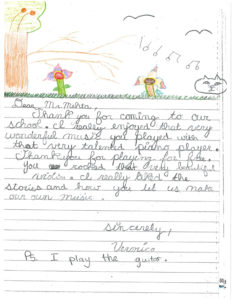 We publish KIDnotes weekly, on Monday. If you'd like to receive, just send an email to [email protected] . You can also access the series on our website at www.venturamusicfestival.org .
Warm wishes,
Susan Scott VMF Executive Director