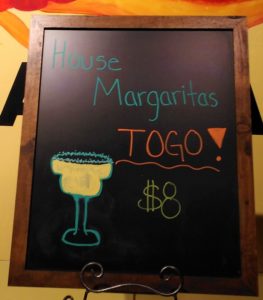 Q. I know that some restaurants are selling mixed drinks to go. Are bars allowed to sell alcoholic beverages to-go? I thought that was illegal.
Charles Gavin
Charles: For once a government agency has acted logically and quickly in order to help restaurants to survive. We asked the ABC that governs this to respond. This is their response. A little too detailed but explains it well.
The answer is "it depends".
I would need to know what type of ABC license they hold, and whether or not they are complying with the directives under the Notice of Regulatory Relief issued by the Department to assist on-sale licensees with being able to continue to generate income as they shift business models to "to-go only" business.
Under current law, all bars and restaurants holding ABC licenses are permitted to sell alcoholic beverages in manufacturer, pre-packaged, and pre-sealed containers, to consumers for consumption off the licensed premises. They may sell only the types of alcoholic beverages that are allowed to be sold under their license for consumption on the premises, except for distilled spirits, and Type-75 licensees may only sell to-go beer that they produce on their licensed premises.
Some licenses are subject to a specific license condition prohibiting off-sale privileges. Notwithstanding this, in accordance with the Notice of Regulatory Relief ("Notice") the Department issued on March 19, 2020, the Department will not be enforcing some of the statutory restrictions. As stated in the Notice licensed bars and restaurants may sell any alcoholic beverages to-go that they are allowed to sell under their license for consumption on the premises, in manufacturer pre-package and pre-sealed containers. This includes distilled spirits (for those licenses allowed to sell distilled spirits) and, for Type-75 licenses, alcoholic beverages other than beer produced on the premises. In addition, the Department will not be enforcing any conditions that prohibit off-sale privileges or that restrict the hours of service although the statutory prohibited hours will still be enforced; alcoholic beverages may not be sold between 2:00 a.m. and 6:00 a.m. each day.
In addition to businesses that hold ABC licenses for bona fide eating places (restaurants; license types 41, 47, and 75), businesses that operate as bars (holding license types 40, 42, and 48) that have kitchen facilities and actually prepare meals on the licensed premises, may also sell alcoholic beverages to-go in the same manner that the Department has provided for restaurants. This means that any beer, wine, or distilled spirits (as applicable) may be sold in containers filled by the retailer as long as:
The container is sealed with a secure lid or cap and in a manner designed to prevent consumption without the removal of the lid or cap;
Such alcoholic beverages are only sold in conjunction with a bona fide meal prepared on the licensed premises for pick-up or delivery; and
The required notice is provided.
The sealing of a lid with holes in it by some method that cannot be easily removed by a customer after the sale is acceptable.
It is the responsibility of the delivery person to verify the age of the customer purchasing the alcoholic beverages to ensure delivery is not made to underage persons. The licensee is ultimately responsible for the delivery of alcoholic beverages.
Have a question, send it to [email protected] and we will try to get you an answer!