Maia Wulff and Alex Wulff working on face shields.
by Thea Wulff- Foothill Technology High School
Through STEMbassadors, middle and high school students from the Ventura Unified School District have been working closely with the community to manufacture and donate hundreds of 3D printed face shields to local hospitals. Under the guidance of Alex Wulff, a middle school teacher at DeAnza Academy of Technology and the Arts, this project has taken off, with capacity increasing steadily to over 100 units per day. ER doctors and nurses are thrilled by the shields and have already put them to use.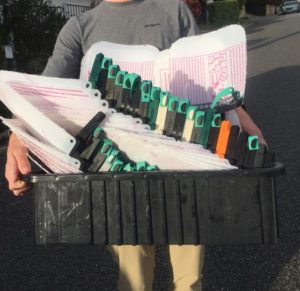 This is a grassroots effort supported by students, teachers, community members and several local businesses. The naval base and CSUCI have played key roles in supporting the massive 3D printing effort. Every day, supporters numbering in the hundreds make donations, 3D printed parts, and help to assemble shields for our hospital staff.
Local businesses have worked selflessly, contributing supplies, materials and expertise. Hundreds of donations from the community have been pouring in to www.stembassadors.net which has been set up to fund the COVID-19 fight. American Plastics, owned by Robert Washington has donated materials to make thousands of face shields. Fastsigns of Ventura has helped to procure additional materials, and Dave's Signs has dedicated their CNC router to cutting polycarbonate lenses. The level of selflessness and support among community members has been an inspiration to everyone involved.
The STEMbassadors network of makers now extends from Santa Barbara in the North, and down to Los Angeles and inland to Ojai and Simi Valley.
"A week ago, I never would have dreamed we'd have kids making protective gear for hospital workers," Wulff said. "Now here we are, an entire community has stepped up to help protect the heroes on the frontline of the COVID-19 fight."
"We are proud of the work that Mr. Wulff and our students are doing to help our community. This project highlights our need for Career and Technical Education to solve immediate problems in our community. I am happy that our District is dedicated to the growth of this area as we move forward together," stated Dr. Roger Rice, VUSD Superintendent.
STEMbassadors will continue to work with community members to maximize face shield donations to hospitals. They are open for donations on their website, stembassadors.net and are looking for more makers with 3D printers to join the project.
If people would like to contribute to STEMbassadors, they can visit our website at stembassadors.net. Here they can contact us, read more about our vision, and donate.