Many people equate ceramics and romance with Patrick Swayze and Demi Moore in the movie Ghost, but seriously, no potter we know keeps a pottery wheel next to their bed! So, if you are looking for the true romance of ceramics for this Valentine's Day we suggest you head over to the Ventura County Potters' Guild (VCPG) Gallery in the Ventura Harbor. Over 35 member artists are turning out hearts and other unique gifts. Nothing is more personal than something handmade and the Gallery has hundreds of pieces, reasonably priced, for you to choose the perfect gift for family, friends, and that very special person.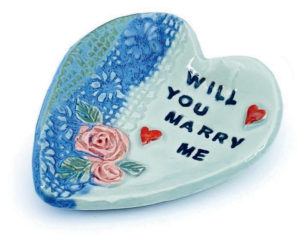 February 8, 9 and 14 the VCPG Gallery will be doing a special Love Local Art exhibit outside the Gallery with hand-building demonstrations between 1 – 4 PM February 8th by Gayle Swanson and February 9th by Christine Watte. The Gallery will join the Harbor festivities on February 14 and will have sweets available while supplies last.
February featured artist Gayle Swanson has been making art her entire life and her love for color has followed her work in acrylics, watercolors, and clay. She is known for her vibrant, ocean-inspired turquoise glazes and bright flora colors of Oregon's forests. We invite you to meet the artist and watch her Valentine demonstration of making heart-shaped jewelry holders, hangings with pockets, and shakers.
The VCPG Gallery is located at 1567 Spinnaker Drive, Suite 105 in Ventura Harbor. The Gallery is open seven days a week from 11-6. For more information visit www.venturapottersguild.org.