Kassandra Ramirez
by Mira Reverente
Some families started showing up early, eager and excited for what lays ahead, undeterred by the heavy downpour and gloom on that last Sunday before Christmas.
Hot cider and cookies greeted all the families who came in for the first annual bike give-away for kids at Bike Hub, a one-of-its-kind community bike shop along Ventura Avenue. Raffle tickets were given out to all the kids upon arrival.
Michelle Gerardi of Ojai brought her daughters. The youngest of the three, two-year-old Brighton, immediately had her sights set on a pink Minnie Mouse bike with training wheels, which she won.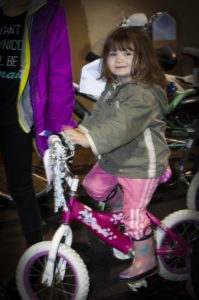 It will be the first bike for Brighton, but not for nine-year-old Nani, who has always shared a bike with her 10-year-old sister. "Now we each have a bike and don't have to wait for our turns," she says.
Volunteers were on hand to assist and help contain the excitement during the give-away. Ventura resident and avid cyclist Mike Steinbaum was one of them. "It's nice to help people who need bikes or depend on bikes as their primary mode of transportation," says Steinbaum, a long-time volunteer.
For $5 an hour, anyone can come in and use the equipment and tools at the shop. Volunteers can get credit for pitching in at the shop, from sweeping the floor to assisting customers. Steinbaum explains, "It's a collaborative effort vs. a drop-off type of repair shop. There's always something that we could use help with even for those who are not gandy with bikes."
Bike Ventura is the parent organization of Bike Hub, a non-profit and grassroots group that actively promotes and advocates for bike safety and education all throughout Ventura County.
"We help fix bikes and provide instruction to people who bring in their bikes for repairs," says Joey Juhasz-Lukomski, executive director of Bike Ventura. The Bike Hub is open most afternoons except Mondays, from 3:00 to 7:00 pm, with longer hours on Sundays. Says Juhasz-Lukomski, "There's always someone available to help, whether it's one of our staff or the countless volunteers we have."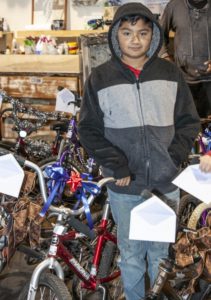 Deputy Mayor Sofia Rubalcava, donning a Santa hat, also graced the event and mingled with the families.
Leading up to the event, volunteers put in countless hours working on used and donated bikes and ensuring all are safe and road-worthy. Through word-of-mouth, social media and community partnerships, families learned of the local holiday event.
Girardi found out about the event through Facebook but managed to keep it a secret from her daughters until the day of. "I really wanted it to be a surprise," she says.
Brighton's big sisters Christabella, 12 and Jazzlyn, 10, also got their first picks. Says Christabella, "We can't wait till it's not cold anymore so we can ride our bikes to school."
Over 30 bikes were up for grabs for the almost 20 kids that were in attendance. Everyone went home with bikes and big smiles.
VENTURA BIKE HUB 490 N. Ventura Avenue
(805) 641-2665. For more information, go to bikeventura.org.
Photos by Bernie Goldstein