Breeze:
I was saddened to hear that the Catalina Casino (Avalon Theater) will stop showing movies, according to your publisher S. Brown.
I must confess that I never actually supported the place by viewing movies there, mainly because it is a long swim from Ventura to Catalina, even when the ocean is calm.
But I have a very fond memory of seeing a movie at that venue: It was l966, and 20th Century Fox took me out to the Casino–which was a magnificent edifice and an architectural landmark.  I felt like I was stepping back in time and was at some regal theater in a European capital. The ocean views were spectacular–but alas, the film "Morituri" was not too terrific and frankly was a bit of a box office flop.
But on the same evening after seeing the film, we got the opportunity to meet and chat with  a scruffy looking gent, who was surprisingly amiable: A fellow named Marlon Brando, who I believe made a handful of movies that really did well and was considered a rather good actor!
Ivor Davis
---
Ventura Breeze
Starting Jan. 22, 2020, the T.S.A. will ask all travelers who don't have a driver's license from a compliant state or a state that has been granted an extension to the compliance deadline (this means that residents can continue using their noncompliant license for federal purposes while the state continues working to be in compliance) to provide an alternative form of acceptable identification. Travelers won't be able to pass through security without this acceptable identification.
And, as of Oct. 1, 2020, all air travelers will be required to have a Real ID-compliant driver's license or alternate acceptable identification to fly domestically.
Thanks
Mike Merewether
---
Dear Editor:
Just caught the President discussing toilets. I think he has discovered how useful they are. I'm not sure he knows, that men, and women ,use them differently, but he is concerned, about the lack of discipline, in how many times, and how often, toilets get flushed.
He is worried about wasting water during our climate change worries(he said people flush 10-15 times each time). He wants us to be aware of how much water is wasted, by flushing more than we need to. 
I'm not sure what he is recommending: how many flushes are needed for sit-down uses, or stand-up uses. No matter. Watching how much water is used, during our bathroom breaks, is important, and it behooves, all of us, to be frugal, anytime, we
need to use the "potty:"
I am so relieved that the President is talking about important stuff. 
Relieved, but frugal,.
Esther Cole, Ventura,
---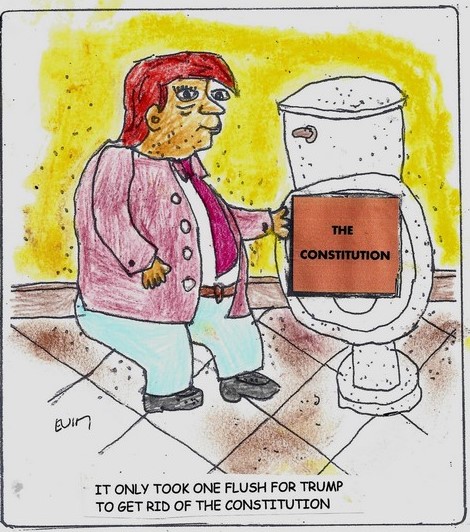 ---
If you don't like the way I drive, get off the sidewalk.
~ Lotus Weinstock