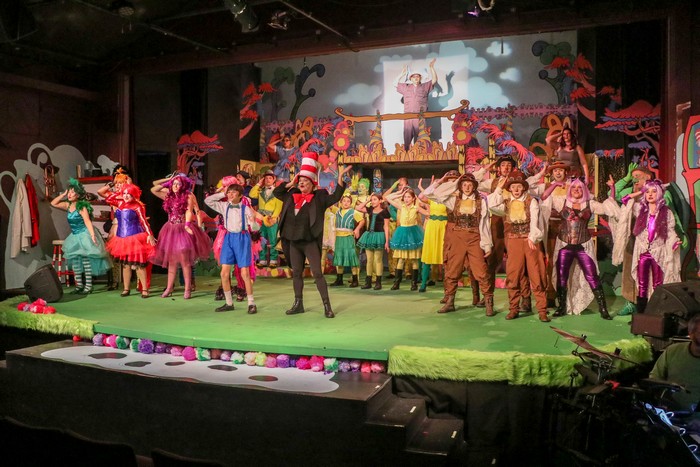 by Shirley Lorraine
Seussical, an Amuse-ical Musical
The Ojai Art Center Theater closes out its 2019 season with the City's Urban Forestry Department's new 4,000 gallon water truck, the Musical directed by Gai Jones. An amalgam of Dr. Seuss stories bring their characters together for a new look at many of the familiar characters as their tales intertwine.
Performed almost entirely in Seuss's inimitable and fanciful rhyme, the show builds around the plight of the hapless Horton, the elephant who egg-sits for the flighty and flamboyant Mayzie the bird who literally flies the coop. Horton is assisted by love-struck Gertrude McFuzz and, of course, the ultimate catalyst for chaos, Cat in the Hat.
From beginning to end, the stage is filled with beloved characters. Who-Ville is represented, naturally, complete with charming Cindy Lou-Who. Yertle the Turtle and General Ghengis Kahn Schmitz with his merry band of cadets grace the stage. The Wickershams, a lively group of monkeys (kudos to make-up artist Kaelynn Adams) play pranks throughout. Even the Grinch makes an appearance. A quite large cast handles creative choreography, scene and prop changes and colorful background throughout.
In short, the production is fun, lively and visually entrancing. Sheryl Jo Bedal has outdone herself with creative costuming to bring the characters to life. Choreography by Debbie Ayes is innovative and appropriate for all skill and age levels. Live musical accompaniment accents the rapid lyrics and keeps the singers on pace for the almost non-stop musical numbers.
Several roles are double cast. The night I attended Steven Michael held the pivotal role of Cat, Kyra Amal-King played JoJo (a Who-Ville lad whose travels help save Who-Ville) and Hayley Silvers played Mrs. Mayor. Although the players may be different when you attend, the performers will no doubt be just as capable as the cast I saw.
Michael McCarthy as Horton provides a solid representation of the down-trodden, put-upon but loyal elephant. McCarthy also designed the intricate set and graphics. Standout performances are given by Emily Hall as Mayzie, Marisa Miculian as Gertrude McFuzz, Christian McAteer as General Ghengis Kahn Schmitz and Evan Austin as Mr. Mayor.
When you go, if you can still get a ticket, be prepared for a high-energy performance. As a bonus following the show, the cast holds autograph signing in the Gallery or patio, weather depending. Young patrons especially will delight in the opportunity to meet and greet their favorite characters.
The Art Center is also collecting donations of new or gently used Dr. Seuss books to be given to the Ojai Union School District. You can help introduce new generations of youngsters to the whimsical imagination of Dr. Seuss. The gift of reading is always an excellent offering.
I left the theater challenged to make a sentence without rhyming for the entire drive home and had a hard time keeping my feet from continuing to dance. Not a bad way to spend an evening.
Seussical continues through December 15. Show times are Fridays and Saturdays at 7:30 p.m., 2 p.m. matinees Saturdays. and Sundays. $25 general admission, $20 for seniors and Art Center members, and $10 for those 25 and under. The Ojai Art Center is located at 113 S. Montgomery, phone (805) 640-8797 or www.ojaiact.org .at:
113 S. Montgomery Street
Ojai, California 93023
Tel: 805 640-8797cated at:
113 S. Montgomery Street
Ojai, California 93023
Tel: 805 640-8797