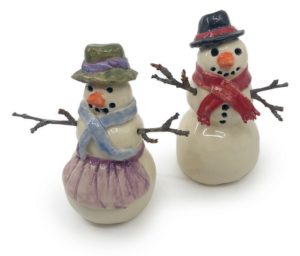 At the Gallery you will find unique and affordable functional pottery such as mugs, bowls, tea sets, sponge holders, vases and sculptural pieces including wall hangings, many with a sense of whimsy. Special for the season will be hand-made ceramic ornaments.
While you wait for Ventura Harbor Parade of Lights to begin on December 13 and 14, stop by The VCPG Gallery during extended hours or come during the Harbor's Winter Wonderland and Holiday Market on December 21 for a large selection of beautiful handcrafted holiday gift items.
Rebecca Catterall, the Gallery's December featured artist, will be doing a clay demo throughout the day on December 21. She will be creating image transfers to clay using a few different techniques such as silk screen and photo copier transfer.
Ventura County Potters' Guild Gallery, 1567 Spinnaker Drive, Suite 105.
Extended hours during Harbor events: December 13 & 14 during the Parade of Lights
December 21 Winter Wonderland and Holiday Market at the Harbor