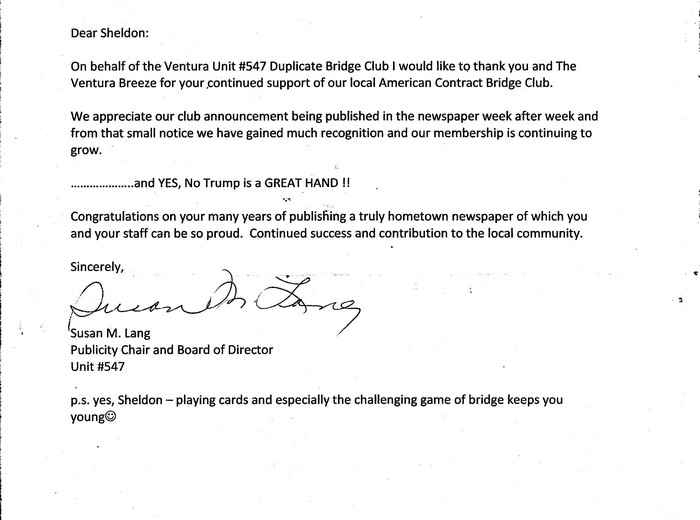 ---
Sheldon:
Thank you, Sheldon, for running that Walk with a Doc article. I have heard from many readers who saw it and were tickled to be in a "newsworthy" program.
You do a great service for this community. A trusted resource.
Thank you again.
Warmly,
Rosanne Facone
Rosanne:
Thank you for presenting Walk with a Doc also a great service for the community.
---
Breeze:
When an ex-city council person says at a meeting 'you ain't seen nothing yet" when referring to the future increases of water bills for city residents you should take notice, but maybe its too late already.

Instead of fighting a law suit against the city brought by the "California Water Impact Network" the city decided to just pass on the $200,000,000 cost of a "toilet to water" project to the residents. This doesn't include the $3-$6,000,000,000 per year operating cost (bound to exceed the estimates I'm sure).

Meanwhile the city water dept is being sued by a county supervisor for not coming clean on the cities failure during the Thomas Fire, and not releasing  to the public the report on why the failure occurred and why we had no water. Is there another massive project being hidden from the public lurching in the background?
Why don't we know what happened? The residents are still suffering and deserve to know the truth.

To cement our plunge into third world status, the power company threatens weekly to shut down the power if the wind is blowing !

So our future in Ventura is to sit in our powerless homes, drinking water that a few weeks before came from our toilet, wondering if we can someday get enough power to charge our electric car. However, we are secure in the knowledge that California is on the leading edge into the future. From Governor to city council we need a change to individuals who are for the people.
Regards
Robert W Coshland
---
Dear Sheldon Brown,
As a Pierpont Beach resident, I recently received a notice that Anastasi Development has proposed a mixed-use project at Harbor and Seaward.
They tried to develop this area in 2006 or 7, and after attempting to work with the city and neighborhood, ultimately abandoned it. In that time, this is what has changed:
The housing crisis has become more acute. Hundreds of acres of Ventura's farmland, the most fertile land in the world, has been built on. Housing costs have skyrocketed. Wildfires have displaced families throughout Ventura County.
It seems to me that it is time to stop saying "we love Ventura and don't want it to change", because everything changes. It either gets better or it gets worse, and a lot of things have gotten worse. New condominiums would bring people who have chosen to live near the beach, and they would support the marginal restaurants and shops in the area, most of which are deserted in the off-season. Empty lots, like broken windows, are signs of stagnant areas and decay, besides being just plain ugly.
I hope that the community will work with Anastasi to help this project happen, because even though yes, it will put more cars on our streets, it will add greatly to the area through additional retail and restaurants and support of the existing ones. And on an environmental note, it is far less costly and disruptive to bring water, power and sewer lines as infill in developed areas than to bring them to outlying farmland – and that goes for traffic, also.  The farther out the homes are, the bigger the commute and the more total miles on the road.
We love Ventura, and want to keep most of what brought us to the area 40 years ago, but things change, and we need to change too.
Carolyn Hiller Ventura
---
Dear Editor:
Trump must have been nursing this competition for years. At last, he can nya nya his victory, being more important, than getting Osama bin Laden.
What kind of a "leader' spends so much time planning a "coup" for years, just so he can prove he is as good as Obama.
No matter what Trump does, or kills, or brags about, he will never match our previous president. Obama is intense, intelligent, focused on being a leader. Obama never wasted breath or energy on "one upsmanship" Obama, and his entire family, were models. They are moral, and kind, and made the United States of America, trustworthy and reliable. The reputation of the U.S.A. was upheld, and enhanced, during the Obama administration.
How sad, this current, "me, me, me" president' is so focused on himself, he has no time, no space, no understanding of how to lead.
Can't wait for the next election. I can't believe, the voting population of the U.S. of A., will repeat the last mistake. 
Trump is focused on Trump. The Trump trumpet never ceases to blast noise.
Impatiently, Esther Cole, Ventura
Breezy:
Thank you and Sheldon for the *shout outs.  They are paying off.  Each clinic we are able to do up to 32 cats and dogs and that is three times a month, plus the call ins for local vets.
Valerie
*Thursday, October 31st at SPAN Thrift Store parking lot 110 N. Olive St. (behind Vons on Main), and a second at Albert H. Soliz Library – El Rio, 2820 Jourdan St., Oxnard, 93036 on Wednesday, November 6th. Please call to schedule an appointment (805) 584-3823.
---
Men are wise in proportion not to their experience, but in their capacity for experience.
~ George Bernard Shaw