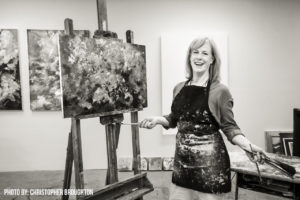 ArtWalk Ventura 2019 is back with again with a full day of new Artists, Great New Art Venues, improved ArtWalk Shuttle and Fun After Party at the WAV.  Join in for the 26th annual ArtWalk Ventura, Sept. 28th 11-7pm where you can ride on the ArtWalk shuttle through the WestSide and Downtown Ventura to become a part of a whole day art experience.  The cultural district of Ventura will be alive with a wide variety of Artist venues interactive public art exhibits, live music, artist demonstrations, kids' activities, performances by Rubicon actors and much more.
With 20 Arts Venues and over 100 artists participating this year's ArtWalk will not disappoint.  Come spend the day shopping and experiencing Ventura's thriving art scene. Don't miss the fun afterparty in the WAV amphitheater featuring classic rock dance music by Fish Fry.
New and improved this year is the 3 ArtWalk shuttles that will be continuously rotating between the several stops along the ArtWalk route from Downtown Ventura to the Westside.  With 3 shuttles circulating all visitors will have an easy access to visit all of ArtWalk in one day.
Some of the exciting art stops along the ArtWalk route this year include The Museum of Ventura County, The WAV, Bell Arts, Art City Studios, John White Studio, Red Brick Art and Pacific Wonderland Inc.
ArtWalk's 2019 Artist of Distinction is Sarah Jenks Flesher, who has donated her time in creating several ArtWalk interactive pieces welcoming the visitors to the world of art featuring representations of famous artists and their paintings.  Her giant canvases are not to be missed and will be landmarks along the shuttle route throughout the ArtWalk.
ArtWalk is a free family friendly activity where you can be emerged into the local art world, we hope you join for another year of creativity.  For more information and details about what is to come please visit www.artwalkventura.org.