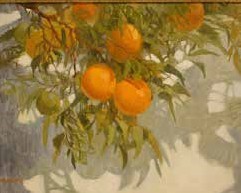 In May of 1999, the City Council established the Municipal Art Acquisition Program to document the history of visual art in Ventura through the annual purchase of important works of art created by area artists. The collection provides increased access to art of the highest quality and of distinctive merit through its display in the public areas of City Hall and other municipal buildings.
In the corridors of city hall is Meredith Brooks Abbott's Oranges Against Shadows, 1999, oil on canvas.
She studied and learned from several recognized American Impressionist painters – Douglass Parshall, Richard Meryman and Clarence Hinkle. Abbott's family-owned, fifty-acre ranch in Carpinteria is the landscape found in her plein air paintings.