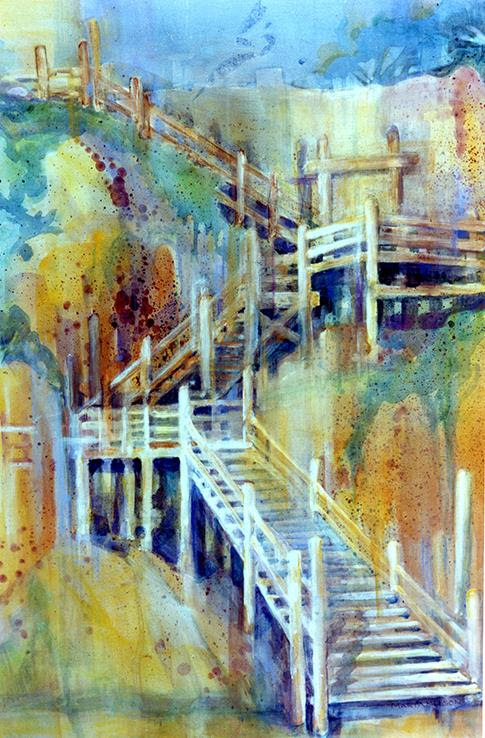 Marta Nelson, one of Ojai's most beloved artists, passed away peacefully at age 96. Marta was a painter, a printmaker and a sculptor in papier mâché. She was a traditionalist who knew when to bend the rules, an optimist who felt compelled to paint something beautiful, a citizen of the world who strongly believed that artists have a mission: to use the arts as a vehicle for peace.
She dedicated her life to community, establishing art programs that continue to this day. Among her legacy, is the co-founding of the prestigious Ojai Studio Artist (OSA) Tour. Established in 1984, OSA is a highly respected group of artists that open their studios annually the second weekend in October, with mini tours throughout the year.
Marta was originally from the Los Angeles area, settling in Bakersfield, before she and Hank retired to Ojai in 1981. Her formal education includes studying illustration at the Chouinard Art Institute. Marta shared in her 2006 Focus on the Masters Oral History, "I chose illustration so I could earn a living." She worked as a newspaper illustrator at a time when a woman was credited under their husband's name. She added, "That always bothered me – being listed as Mrs. Henry Nelson. It was as though a woman had no identity of their own."
While in Bakersfield, Marta taught art classes at Bakersfield Community College and Spanish to elementary school students. Her love for teaching continued throughout her life with her most recent students among her fellow residents at The Gables of Ojai retirement community.
In Marta's early days, she worked in the animation department for Screen Gems Colombia Pictures painting backgrounds and mixing color for the animators.
As a college student, Marta majored in Spanish, an experience that opened her eyes to the beauty of culture throughout the world. She became a folk dancer in the 1950s – Spanish dancing being among her favorite – and traveled to festivals throughout the state. She took up belly dancing at age 40 to address her arthritis. Her love for travel and cultural experiences became an inspiration for many paintings and prints. She described herself as a perennial student, always experimenting and eager to learn something new.
To learn more about Marta visit: www.OjaiStudioArtists.org