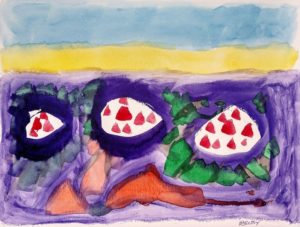 Featuring art by Turning Point Foundation Clients
March 13 – April 1, 2019
Public Reception March 20 from 1:30 – 2:30 pm
At Ambrosia by Caffrodite 7:00am – 3:00pm (closed Tuesdays)
1987 E Main Street-805.628.9289.
Join Focus on the Masters Archive and Library (FOTM) and Turning Point Foundation for an exhibition featuring artwork created in FOTM's Learning To See (LTS) art program through Turning Point's Quality of Life Project by residents of Board and Care Homes who struggle with mental and physical health challenges this exhibition celebrates their endeavors and serves as inspiration for all in our community.
Turning Point's Quality of Life members have been exploring their creative spirits through weekly art programs with the LTS program for over 4 years. Each class offers them the valuable opportunity to engage with others, express creativity, practice physical dexterity, and gain a sense of accomplishment as they face the challenges of living with mental illness.
Turning Point Foundation addresses the critical community support needs of mentally ill adults, serving more than 500 clients each year through its shelter, supported housing and rehabilitation programs. Turning Point improves our communities by helping those facing mental illness remain or become functioning, integral community members. They are a critical support organization for families dealing with the devastation of mental illness.
Participating locations The Elms in Ventura and Sunrise Manor in Oxnard.
For more information about Learning To See, contact [email protected] or 805.653.2501
Turning Point Foundation (805) 652-0000 TurningPointFoundation.org