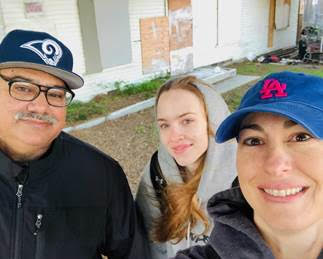 United Way of Ventura County would like to thank the 400 volunteers who fanned out across the community recently as part of the 2019 Ventura County Point-In-Time Homeless Count.
The Ventura County Continuum of Care (VC CoC) joined with UWVC and many other community organizations to conduct the annual count and individual surveys, a requirement to receive U.S. Department of Housing and Urban Development funding. Volunteer teams spread out through Ventura, Camarillo, Ojai, Santa Paula, Thousand Oaks, Fillmore, Oxnard, Simi Valley, Port Hueneme, Moorpark and unincorporated areas on Jan. 22, with follow-up taking place at service sites throughout the week.
"Our goal is to help all Ventura County residents reach their full potential in education, financial stability, and health," said Eric Harrison, CEO of United Way of Ventura County. "Through the surveys volunteers collected, we find out more about what resources are needed most and where they can be directed. We're so grateful to everyone who came out and did a wonderful job."
UWVC has hosted volunteer sign-ups on its www.volunteerventuracounty.org website over the last three years. Teams went out in the early morning through mid-day to places where unsheltered homeless persons are known to gather to conduct the count and surveys.
The Ventura County Continuum of Care will release results of the count in the coming months.
"The Point-In-Time count is an important annual activity that helps inform the VC CoC of the needs of persons who are experiencing homelessness," said Tara Carruth, County Executive Office, Ventura County Continuum of Care. "This snapshot data of one day of homelessness assists with evaluating and monitoring trends in demographics and needs of the population. Volunteer participation is a great value in this process since the count data results in State and Federal funding for housing and services for homeless individuals and families. Thank you to all of the volunteers who assisted with this year's efforts."
Since 1945, United Way of Ventura County has advanced the common good by creating opportunities for a better life for all. Our focus is on education, income and health, because these are the building blocks for a good quality of life. We support local services and programs that are more than just 'stop gap' measures, but rather solutions that help create lasting change. We invite everyone to be part of the change by giving, advocating and volunteering. When we work together in common purpose, we LIVE UNITED. For more information about United Way of Ventura County, visit www.vcunitedway.org.