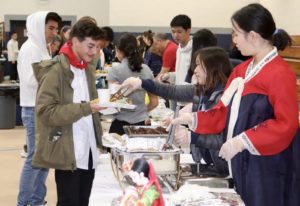 Villanova students, staff and families gathered on Monday, January 14 to celebrate one of Villanova's traditions, International Day. The annual event honors the rich diversity of Villanova students' heritage through food, dance, traditional dress, and music. International Day at Villanova dates back to the early 1990s, when resident student, Victor Yang '94 from Taiwan, expressed a desire to share his culture with his American classmates. The tradition has since blossomed into a highly-anticipated celebration with Villanova faculty and parents helping students develop food menus, and learn cultural dance and music.
Lanny Kaufer's Herb Walks series will present Jess Starwood, clinical herbalist and forager of wild medicine, on Saturday, February 9, for a workshop in Ojai entitled "Tasting the Wild: Foraged Flavors of Local Plants and Mushrooms." Starwood is the owner of SunRaven Apothecary in Thousand Oaks,
Participants will identify and experience several wild winter plants and mushrooms to be found in Southern California locales this time of year. In the kitchen, Starwood will share her popular medicinal mushroom chocolate truffle recipe and all participants will go home with some truffles they made by hand themselves, just in time for Valentine's Day.
The group will meet in the morning for an Herb Walk led by Kaufer and Starwood at the Ventura River Preserve followed by the afternoon session in a downtown Ojai kitchen and workshop space.
This workshop will go on rain or shine with substitution of morning indoor activities in case of heavy downpour and/or a 100% chance of heavy rain that morning.
The cost of the workshop including all materials is $75. To register, please visit HerbWalks.com, email [email protected], or call 805-646-6281. Registrants will receive a confirmation email with all necessary info prior to the event.
Ojai Art Center February 10th at 6:00PM for a musical evening "From Berditchev to Broadway" featuring the world renowned Cantor A.L. Hurwitz and Reb Doniel on the piano.
Cantor Hurwitz is a soloist and performer from Brooklyn, NY whose brilliant voice has been featured all over the world.
The Ojai Arts Exchange has teamed up with Flamenco Dancer Wendy Castellanos to curate a night of authentic Flamenco music and dance. The show will feature Tony Triana strumming the Guitar, Antonio de Jerez, singing timeless gypsy melodies, Cristina Lucio, Jamie Padilla and Wendy Castellanos, setting the stage on fire with their entrancing movements.
The Ojai Underground Exchange is located at 1016 W. Ojai Avenue. Tickets are $25. Visit www.squareup.com/store/undergroundexchange for tickets and www.ojaiartsexchange.com/events for more information.
More than 150 attendees gathered at the Ojai Valley Woman's Club on January 17 to attend the third annual Ojai Women's Fund Grantee Gala Awards Celebration. A total of $105,000 in grant money was distributed to 13 nonprofit organizations providing services to the Ojai Valley community in arts, education, environment, health, and social services. The grants were funded by donations from 358 Ojai Women's Fund members and a contribution from the Wilson Family Fund grant from the Ventura County Community Foundation. The Ojai Women's Fund is an all-volunteer circle dedicated to making substantial grants to organizations that address critical needs in the Ojai Valley