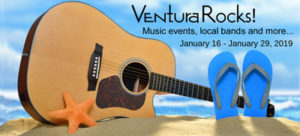 by Pam Baumgardner
VenturaRocks.com
Trust me when I say, you won't want to miss An Evening of Song & Stories with Chris Hillman at the Museum of Ventura County on Thursday, January 24. Hillman, long-time Ventura resident, was one of the original members of The Byrds, The Flying Burrito Brothers, and the Desert Rose Band. I was fortunate to see Hillman perform last year at the Lobero Theater, so we are very fortunate to have him in our town in such an intimate setting. You can get tickets through the museum (this will sell out). The legendary Rock and Roll Hall of Famer also loaned the museum some of his memorabilia which is on display through March 31.
Squashed Grapes continues to book jazz shows at the Hong Kong with Jazz Jams on Tuesdays nights; Jimmy Calire and Friends will be there Wednesday, January 16; Bruce Forman performs "The Red Guitar" on Thursday, January 17; it's Nee's Bees (features Nee Sackey, Karl Hunter) on Friday, January 18; and Bevan Manson and Friends on Saturday, January 19.
There's a new venue in Oxnard called 1901 with a "speakeasy" themed bar, and I'm happy to report they offer live music on Friday and Saturday nights. They're located downstairs from La Dolce Vita Ristorante in Heritage Square.
The extremely dynamic Kelly Kirbes will once again be raising funds for C.A.R.L. This is their 6th annual fundraiser for the Canine Adoption and Rescue League featuring her band Kelly's Lot. The event will be held at Four Brix Winery on Saturday, January 26 (5:30 – 8:30 pm), featuring Scott Detweiler, Elizabeth Hangan and others in the band.
Made West will be celebrating their third anniversary on Saturday, January 26, with performances from noon until 8 pm featuring Brother Earl and the Cousins, Amargosos, Shay Moulder, Hannah Jobus and Matt Sayles.
Quick Notes: the popular "Celebration of Joni Mitchell" will be performed at Namba, on Friday, January 18; Vendo 81 plays during the Food Truck Friday at the Pacific View Mall on January 18; E.P. Foster Library will offer a free performance at noon by Opera Santa Barbara on Friday, January 18; a benefit for SPARC with Lacy J. Dalton and Dale Poune will be at the Ventura Theater (hosted by actor Malcolm McDowell) Saturday, January 19; local jazz artist, Toni Jannotta will perform her "My Little Heart Ruthie" at Bell Arts Factory on Saturday, January 19; The Rubicon presents Red Hot Mama: The Sophie Tucker Songbook for two performances on Saturday, January 19 and Sunday, January 20; traveling through town, DBT (Driven by Turmoil) and Steeltoe, will make a stop at The Garage on Friday, January 25; and the Unity Theater Collective will hold a fundraiser at Namba on Saturday, January 26 with a "Mamma Mia Sing-along."
Do you have any music-related news or upcoming shows you want help publicizing? Please send all information short or long to [email protected], and for updated music listings daily, go to www.VenturaRocks.com.