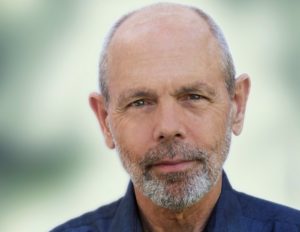 Rubicon Theatre Company opens the 2019 Season with the quirky romance Heisenberg. Sweet, sexy and full of surprises, the story follows two strangers whose lives intersect in a bustling London train station when free-spirited Georgie, a 40-something American, unexpectedly plants a kiss on the neck of Alex, an older Irish butcher, as he sits on a bench at St Pancras Station.
When she turns up in his shop a few days later, she sets the suspicious man's world reeling. As Alex is drawn into Georgie's anarchical world, his conventional life becomes chaotic, uncertain and undeniably richer. Written by Tony-Award winning playwright Simon Stephens (The Curious Incident of the Dog…), Rubicon Theatre Company's production stars Emmy and LADCC Award-winner Joe Spano as Alex ("NCIS," RTC's A Christmas Carol, and Who's Afraid of Virginia Woolf?) and Ovation-winner Faline England (RTC's Gulf View Drive, All My Sons) as Georgie. Directed by Indy-Award Winner Katharine Farmer.
Wednesday January 30, 2019 at 7 p.m. ($25-$35)
Thursday January 31 at 7 p.m. ($25-$35)
Friday February 1 at 8 p.m. ($25-$40)
Regular Performance Times and Prices
Wednesdays at 2 p.m. and 7 p.m. ($25-$55) (Talkbacks follow all Wednesday evening shows except the January 30 preview)
Thursdays at 7 p.m. ($25-$55)
Fridays at 8 p.m. ($25-$55)
Saturdays at 2 p.m. and 8 p.m. ($25-$55)
Sundays at 2 p.m. ($25-$55)
Rubicon Theatre Company
1006 E. Main St. Ventura, CA 93001
Prices above do not include a $4 ticket service fee
Discounts Available for Groups of 10+
Discounts for Seniors 65 and over, Students, Teachers and active Military available
Box Office (for single and group tickets) 805.667.2900.